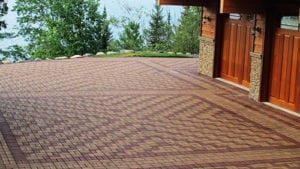 Many municipalities are taking a closer look at rainwater management within their residential areas, and some are levying surcharges based on paved areas. One way to avoid rainwater runoff issues is with permeable driveway pavers instead of complete cover asphalt or concrete driveways. We love the look of pavers and these AZEK® Permeable Pavers are a great solution for driveways and hardscaping.
When installed with an open-graded base, AZEK driveway pavers dramatically reduce runoff. When the paver joints are filled with small stones, independent testing found an infiltration rage of 480 inches per hour—that will handle even the heaviest downpour!
AZEK pavers are one-third the weight of a traditional paver, with an easy-to use grid system that automatically aligns, spaces and secures the pavers, cutting installation time by 66%. They're constructed from durable recycled tires and plastics. AZEK pavers are available in five attractive color options to fit most color schemes.
These pavers are made to last, with a limited 10-year warranty and high resistance to stains, cracks, mold mildew and moisture damage. The pavers also require no sealing to provide lasting beauty in your home's entryway.