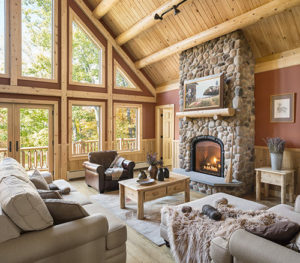 New pale wood finishes are all the rage as a sharp contrast to the dark wood finishes of recent years. Pale wood surfaces can work well in Katahdin Cedar Log Homes to provide a clean light approach to interiors.
Contrast with Log Wall Finishes
Your log walls will be the palette base color, so select a medium tone that can balance well with light or dark furnishings. If you opt for sheetrock in certain areas, these can be a bit more flexible in color selection. The visual effect that should be avoided is uniform color in walls, cabinets, floors, furniture and accessories. Too much of a single color can flatten your interior design. One great way to treat interior log walls is a light, transparent whitewash to log walls, planed to mimic a shiplap-style finish. This provides a clean surface that brightens up the room and allows for many color variations.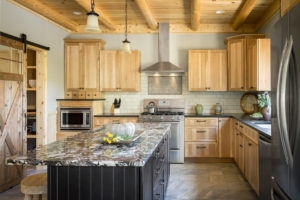 Pale Hues for Cabinets
Blond woods, such as birch, ash or maple, are great finishes for cabinets and offer a contemporary feel to kitchens and baths. Soften the sleek lines with organic-feeling hardware and contrasting countertops in lighter shades of green, gray or blue, depending on your color preference. Tiles can offer a colorful counterpoint to pale cabinetry —for backsplashes, showers and flooring.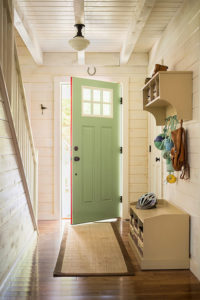 Driftwood Flooring
Driftwood-style finishes for flooring can incorporate cooler gray tones to balance pale wood fixtures. Colorful area rugs can tie these subtle grays and tans together with splashes of color or bold patterns.
Don't Forget Texture!
Smooth, sleek pale ash and birch woods need contrasting texture in the form of textiles and other accessories. Plush pile throw pillows, thirsty towels and bathmats and rough weave baskets can also pair nicely with pale wood palettes. Indoor plants can also bring a fresh look to pale wood interiors— select plants with interesting and varicolored foliage to add lushness to rooms.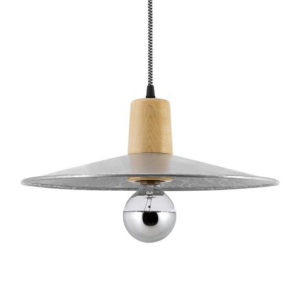 Lighting Completes the Look
Don't neglect lighting in these lighter hued rooms! Sconces and bold chandeliers can provide the warmth and glow to illuminate these pale wood surfaces. Make sure your lighting is on the warm spectrum, otherwise your pale wood installations may look washed out.