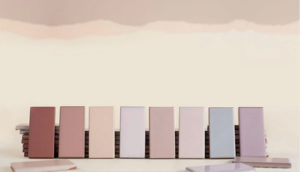 One gorgeous design trend is a shift to desert tones. These soft, subtle and rich tones found in the stones and sand of the desert bring a warmth to your Katahdin Cedar Log Home color palette. From a deep umber to delicate lavender, with sand and peach in-between these hues blend well with the warmth of your Northern White Cedar interiors. In Arborwall Solid Cedar Homes, where interiors are often whitewashed, the palette provides a gentle counterpoint to the fresh open feelings.
Fireclay Custom Tiles in New Desert Colors
Fireclay's Innovation Lab have developed a collection of rich desert hues that can be applied to any one of the company's tile shapes. The collection includes: Red Rock, Mesa, Tumbleweed, Evening Glow, Painted Sky, Dawn, Dust Storm, and Adobe. Fireclay will send a sample pack to allow you to review the mix under various lighting conditions and with other design elements.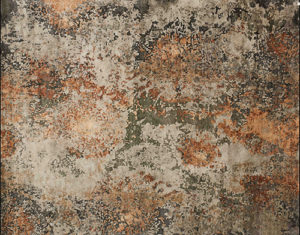 Carpets For Building a Color Palette
The common sense source for a southwestern décor featuring desert tones is a local retailer like Brumbaugh's in Aledo, Texas. Their take on contemporary southwestern design offers plenty of desert toned options for anchoring a room and setting a color center. Their handloomed polyester rugs are uniquely designed and loomed in Turkey. But the truly unique offering is their Elixir leather floor covering. Each design is variable based on the imperfections and tones of the hide and provides unique markings that reflect nature. These are available in sizes from small (2'x3') to room sized (12'x18')
Kitchen Color Schemes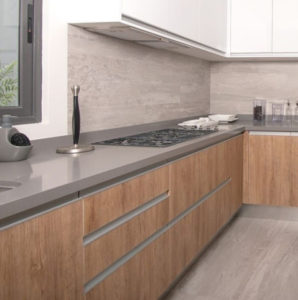 Cabinets and countertops play a huge role in the color palette in your Katahdin Cedar Log Home. With open floor plans that incorporate a kitchen and a great room, colors should flow from one area to another. Consider a two-tone style of cabinets with darker tones on lower cabinets and lighter hues on uppers. Connect the two with a warm colored countertop selection that lies somewhere between the two cabinet colors. While natural stone has great color options to fit within the desert theme, manufactured countertops also achieve stunning looks with more predictable patterns. Silestone  provides a color tool on their website to select the hue, style, texture and color for their quartz countertops.