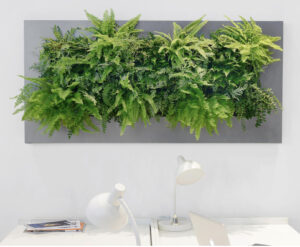 "Living walls" are vertical gardens situated either indoors or outside your Katahdin Cedar Log Home. These lush vertical plantings can add a lush accent to interior rooms and offer other benefits to your family.
Living Wall Art
Bringing a bit of nature inside your log home is easier than you might think. With the growing popularity of living walls in commercial as well as residential spaces, there are many do it yourself options available. One company, Suite Plants offers ready to install options including LivePicture, a piece of living artwork that hangs on the wall like a painting. Suite Plants products feature smart, integrated watering systems, that eliminate the worry of leaks.
Location, Location & Light
These living walls require light to thrive, so it's a good idea to locate your vertical garden with a good source of light. Natural light is the best —windows or skylights—  but artificial lighting can also be added to meet the plant requirements. If installing outdoors, you'll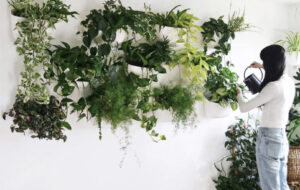 want to identify plants that are hardy to your local climate. If your seasons change dramatically ( like they do here in Maine), you'll want to have the option of moving your living wall to a more temperate environment inside in the late fall. One great portable option to try out is Wallygro's Wally Pro Pockets. These recycled plastic pockets are easy to hang outside in any configuration you choose. When cold temps arrive, they can be relocated inside or set to winter over in a protected space like a heated garage.
Select Plants to Thrive
You'll select plants for your vertical garden to thrive in the environment where you're placing them. Sun-loving plants can be worked into a living wall in your great room with the banks of windows providing plenty of sunlight. For a master bath, select plants that flourish in more humidity and lower lights. Another location that expands your living wall functionality is a vertical herb garden adjacent to the kitchen. Adding a year-round supply of fresh basil, thyme and rosemary is a delight for any home chef!
Basic Maintenance
When selecting plants, it's also essential to select those that share similar watering requirements. Many living wall systems have automatic watering systems, but less expensive options will require attention similar to other houseplants. Drainage is another factor to be aware of. Many wall planting systems have the ability to support plants directly in their pots from the nursery. Pull your pots out occasionally to check for waterlogged roots and trim any dead leaves off.
Once you've got your living wall up, sit back and enjoy the added fresh oxygen from your vertical greenspace!