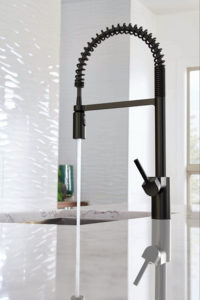 Adding matte black fixtures to your Katahdin Cedar Log Home's kitchen and bath is a little like adding a sharp black tie to your tuxedo. A beautiful contrast to any log home décor, matte black faucets can be sleek and contemporary— a commercial style pull-down kitchen faucet— or vintage — a bridge design featuring separate hot and cold handles and gooseneck faucet.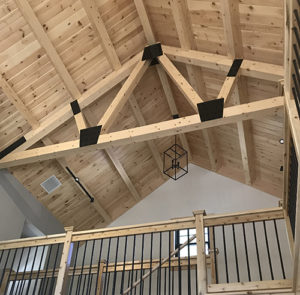 Compare and Contrast
If your master suite features a tiled walk-in shower, a matte black rain shower head reflects a silhouette reminiscent of vintage barn lights. And the black can really pop against lighter, large format tiles often used in walk in showers. If you're a more colorful design fan, these matte black fixtures can underline and emphasize the splashes of color you employ.
Create Drama with Farmhouse Apron Sinks
Whether you opt for classic white or a dark slate farmhouse apron sink, matte black fixtures can add a stylish counterpoint. The matte black finish also plays off the bold, black connecting plates on trusses often featured in more contemporary log home designs, including Arborwall Solid Cedar Homes.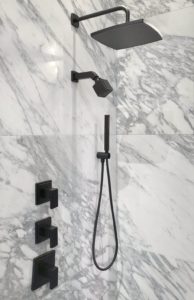 Hard Water Caveat
Some homeowners report potential challenges with spots and hard water calcium deposits. Like many homes, Katahdin Cedar Log Homes are often built in rural locations with private wells. Calcium and other minerals can make hard well water hard on your plumbing and leave noticeable deposits on dark fixtures. An easy remedy is to include a water softening treatment system in your overall design. A water test after drilling your well can determine whether your hard water needs treatment that can make cleanup easier for dark surfaces.