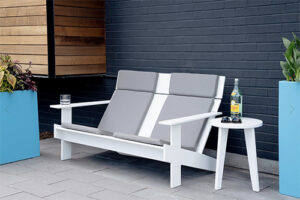 With warm weather and lots of deck and terrace space at your Katahdin Cedar Log Home, you'll want to make sure you include great outdoor couches for those summertime cookouts and fall nights around the firepit. Fortunately, there are plenty of seating options available for every budget.
Outdoor Couch Must-have Features
Most outdoor seating units are designed to be more durable than their indoor cousins. The couch frame can consist of a number of different materials, all proven with outdoor use:
Rattan
Composite
Metal
Teak or Mahogany Wood
You'll want to look for easy maintenance materials, with resistance to mold, UV light, moisture and active guests.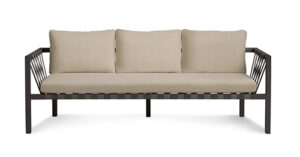 Cushions Make Comfort
While some outdoor couches come equipped with cushions designed to complement the style and colors of the frame, others arrive barebones awaiting your final addition of cushions and  pillows. Choose fabrics and materials that are designed for outdoor use. Resistance to sunlight fading, mold and rugged durability are all components of long-lasting outdoor couch cushions.  Sunbrella is one manufacturer of fabrics that are used extensively in the marine industry, so you can count on durability and great looks for cushion covers made from this fabric. Also keep an eye out for features like Scotchguard fabric protection for stain prevention—lots of barbecue sauce in the great outdoors!
Where to Shop
Check out your local furniture store, big box store or lawn and garden center for ideas. Other companies making great outdoor furniture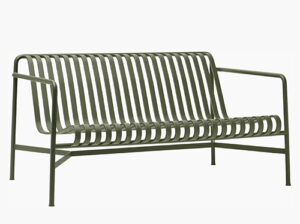 include Wayfair, IKEA, West Elm and BluDot. One unique design from Loll Designs is their Lollygagger Sofa (top right), which is waterproof, fade-resistant and maintenance free. One cool feature: it's fitted with a hidden bottle opener under one of the arms!
Another great sofa that combines durability with graceful lines is the Hay Palissade Sofa (right) a good example of an outdoor sofa awaiting cozy cushions! With free shipping, it's a hard deal to beat!
The substantial Jibe Sofa (above left) from Bludot features anodized aluminum frame, nylon support straps and mold resistant cushions.