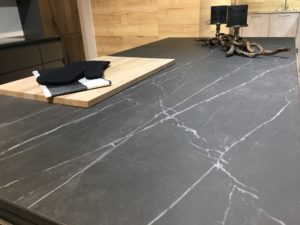 In the ever-evolving world of countertop materials, porcelain SapienStone countertops are a beautiful choice for active kitchens and bathrooms. SapienStone is made with ceramic clays and mineral colorings in a specialized manufacturing process. This affords the SapienStone slabs with resistance to heat, light and chemical cleaners, which can damage other countertop surfaces.
Heat & Light Resistance
Unlike wood, laminates or quartz countertops, SapienStone will not burn in a fire, and can handle a hot coffeepot or pan. The slabs can be used indoors and outside without worry as sunlight doesn't affect the slab color. In fact, the color is infused throughout the slab, so its resistance to scratches is excellent.
No Maintenance
SapienStone requires no special maintenance or attention and can be cleaned with ordinary soap and hot water, or common cleaning products. It is resistant to chemicals and acids of all kinds, including lemon and vinegar. The material's hygienic quality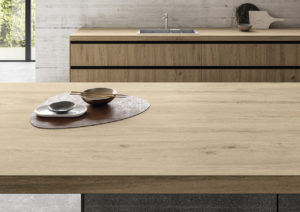 allows food preparation directly on the surface such as rolling pastry dough.
Available Colors
SapienStone's color and design palette tends toward mirroring natural marbles and granite stones, with both bold and subtle designs. Many designs are available in several colors and finishes including glossy and silky. The Rovere slabs are colored to resemble wood finishes, with two warm colors to select from.
The 320 x 150 cm slabs are available in two thicknesses: 1.2 cm and 2 cm. Most work spaces use the 1.2 cm but homeowners looking for a bold statement on an island can opt for the thicker slab.
SapienStone is manufactured in 9 locations in the US and around the world, has U.S. headquarters located in Chicago and dealers nationwide.