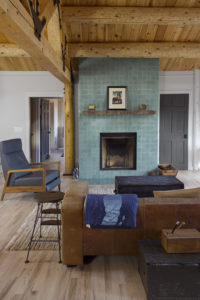 Katahdin Cedar Log Home owners are always up for the latest trend that merges well with the natural feel inside their homes. One hot new trend is zellige tile —a clay-based tile produced in Fez, Morocco. It features a hand-made feel with quite a bit of variation among individual tiles with uneven glazing and slightly roughened edges. Its more natural look makes it a complementary tile style for contemporary rustic styles Katahdin homeowners adore.
Zellige Tile Details
Zellige tile is an ancient art form and the original manufacturing process remains today. Tiles are formed from clay by hand (usually 4 x 4 inches square), then fired on hot fires made from olive pits. Like fine wine and other luxury items, authentic zellige tiles must be produced following very specific guidelines. They are relatively delicate tiles and can be a challenge to install, requiring tight, no-grout spacing. Their uneven, non-uniform shapes may prove a challenge for keeping clean for meticulous housekeepers.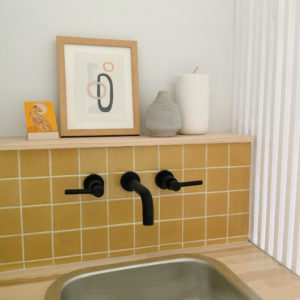 Get the Look Without the Hassle
So, if authentic zellige tile is out of your budget, you can still get the look! We spoke with Kali Gibson at Fireclay Tile, a California based tile company that specializes in ceramic tile manufactured from recycled materials. "When customers are looking for a zellige tile style, I'll recommend a 3 x 3- or 4 x 4-inch tile in a high variation glaze," Gibson noted. If the rough finish is what they are looking to replicate, she'll point them to their more rustic feeling thin Brick tile.
What both of these options offer is the variation in color and slightly rough look that is embodied in zellige tile. One very important factor is that these glazed ceramic tiles are much more durable than the clay zellige tiles. The result is an expansion of locations where they can be used throughout your Katahdin Cedar Log Home.
Environmental Benefits, Too!
If sustainability is on your radar, Fireclay Tile offers a different aspect to its manufacturing than other carbon-heavy tile makers. Their process is carbon neutral using 100% renewable energy. Fireclay recycles much of its waste product right back into the production line. The company's product is LEED certified so that it will contribute to certification should you choose to go in that direction with your Katahdin Cedar Log Home.