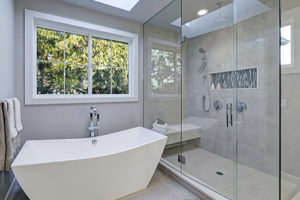 Walk-in showers are a great solution for the master bathroom in your Katahdin Cedar Log Home. Adding a shower seat to the walk-in expands their functionality from a universal design perspective. We found the top designer tips for adding seating in your walk-in shower. Benches or foldaways, fixed or portable, shower seating can take many forms.
Fold-away Seats
To maximize your shower space, consider a fold-away seat that attaches to the wall next to the shower assembly. Some manufacturers offer fold-away seating made of teak for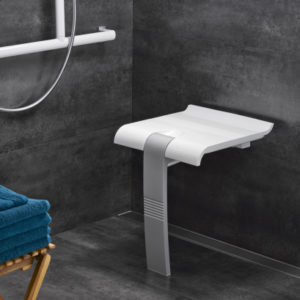 good looks and durability. For sleeker lines check out the Arsis foldaway shower seat, with its solid contoured seat and single support post, this seat will work well in any walk-in shower location.
Portable Benches for Flexibility
If shower space is limited for a permanent bench, consider a portable bench for seating. We like the looks of teak like this Deco Harmony bench that includes a handy shelf for storage as well as comfortable seating.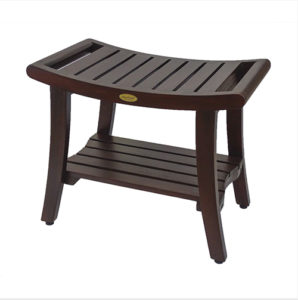 Make it Visible
If your seating is going to be built into the shower, make it visible! Use a lighter or darker color tile or edging or make a fashion statement with some coordinating hand-painted tiles for the seat. An added bonus is that hand-painted tiles can be less slippery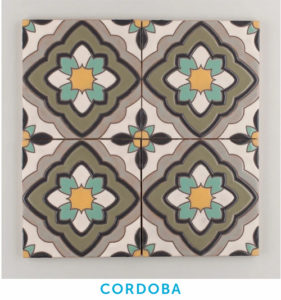 and safer to sit on. Fireclay Tile is an environmentally friendly source for hand-painted tile. Check out their Cuerda Seca collection for a romantic accent.
Get a Handle
Seating areas are made safer with grab bars. Select stylish versions to match other shower fixtures or classic brushed nickel utility grab bars to suit your shower style. Position them so that they can be used to sit or stand, on the wall adjacent to where seating is located. Consider an angled bar or a combo of horizontal and vertical.
Shower Fixtures Within Reach
Position the shower fixtures — especially the handheld spray— so that they are close at hand when seated. Consider a voice-controlled shower system like U by Moen where using a home assistant voice-controlled startup and temperature control can make showering a hands-free experience.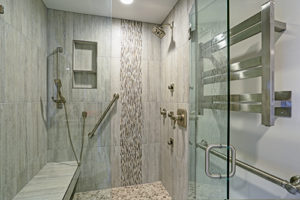 Foot Clearance
If your walk-in shower has a constructed bench, you may want to consider either a floating shelf or a bench with an angled cutaway at foot level. This allows for easier standing and sitting, as feet can be placed further behind the knees for better ergonomics.