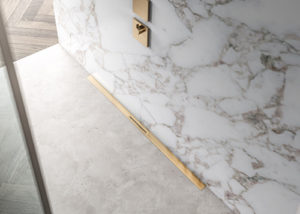 Walk-in showers have a lot of benefits working for them. They're great for keeping your home accessible for universal design, allowing you to stay in your Katahdin Cedar Log Home when mobility becomes a factor. They're infinitely customizable. And finally, they just look terrific!
Start with a Linear Drain
Because most walk-in showers have no lip or dam, drainage is an essential component. Enter the linear drain. Linear drains are positioned within the shower area floor to disrupt the flow of water outside the shower space and to handle typical shower flow more quickly than a single 3" common drain. We spoke with Eduardo Lopez, Regional and Export Sales Manager at QM Drain, based in Florida. His linear drains are a top choice among designers for their unique features. Constructed of marine grade stainless steel, QM Drains are corrosion resistant and limit bacterial growth. The company offers six standard designs and three more adjustable linear drains in lengths from 24-58 inches. The adjustable linear drains can also be linked together for extended drain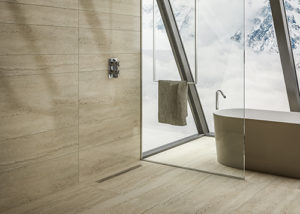 areas, such as next to a pool. A new patented design Supreme linear drain installs neatly with screws— no messy glue or cutting.
For shower applications the key to a great linear drain is the ability to filter hair and debris and keep the drain unclogged. QM Drains feature a drain plate that is flush with the floor tiles. Their specialized "lift key" enables homeowners to lift the drain panel without damaging surrounding grout or tile. QM drains also are equipped with a drain filter basket that's easy to clean out. Ensuring the drain is level is made easier with the included leveling legs, also constructed of stainless steel.
Glass Surrounds Highlight Openness
Many walk-in showers feature stunning floor to ceiling tile, so why not show it off? Glass walls, doors and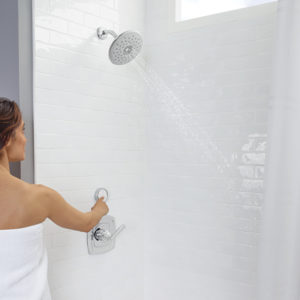 enclosures are sleek and easy to keep clean. Shower enclosures from DreamLine offer a broad range of finishes for hinges, handles and mounting brackets. Start with identifying fixed panels, sliding or swing doors with a wide range of styles, sizes and designs. Glass is available in clear, frosted and half frosted options.
Customize with Built-in Features
Make your walk-in shower your own with built-in features. A small soap niche can add an element of whimsy, especially if it's highlighted with a different tile color or design. Too much shower product for a small niche? Consider a ledge around the interior wall to accommodate all your shampoo, conditioner and body wash. Adding a seat or bench will enable seated tasks and seated showering for those with balance problems. Hate the look of industrial grab bars? Select custom bars that match or contrast with your bath hardware—they'll be attractive and functional.
Pick a Combo Shower Head
A "rain shower" overhead fixture, combined with a traditional wall unit will appeal to both types of shower experiences. A handheld shower handle—with enough reach to use while sitting on the bench is also a good addition to your shower plan. The handheld shower should also be height adjustable to work for seated or standing showers. One great option for multiple shower functions is American Standard's Spectra+ eTouch 4 function Shower head. The wall mounted touch sensor will switch among four spray options with a low 1.8 gallon per minute flow,  certified as an EPA WaterSense 2018 Excellence Award winner.
Whatever style and design you select for your beautiful walk in shower, you'll be sure to enjoy your custom showering experience for many years to come!