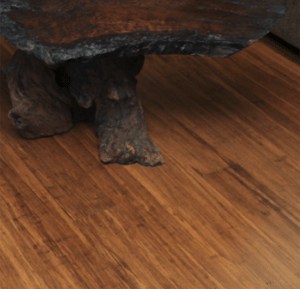 Many Katahdin Cedar Log Homes feature walkout basements—they're such a great use of space for additional living area. The challenge is finding a wood flooring product that can work in a basement environment, which can have added humidity. One manufacturer, Cali Bamboo, has developed an engineered GeoWood flooring that is water resistant and designed to maintain stability. It's also a great looking, durable choice for families with animals.
The secret to Cali Bamboo's GeoWood is its use of real timber layered over GeoCore™, their stabilizing limestone composite foundation. The result is rock-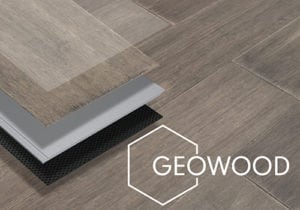 solid hardwood floors that are water resistant —making installations in kitchens, bathrooms, basements or mudrooms a great option. The GeoCore™ limestone composite stabilizes each plank and delivers protection from high heels, pet scratches and furniture markings. The composite base also provides 50% more dimensional stability, meaning less time for acclimation and installation.
GeoWood is presently available in four standard colors: Coppertone, Aged Amber, Jasperstone and Antique Iron to fit most décor plans. Because the surface is real wood and bamboo that's certified sustainable, it qualifies for LEED.