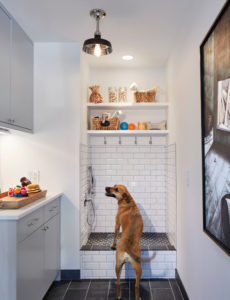 Log homes and dogs just go together! It's no surprise that many who love the log home lifestyle also have a four-legged fur baby (or two) as part of their family. In fact, according to the American Veterinary Medical Association, four out of every ten American households are dog owners. When you're designing your Katahdin Cedar Log Home, it's a great time to include some special touches to make you and your pup's life easier. We did some research on the top trends for dog amenities in homes, and here are the top five:
Dog Washing Station
For many dog owners, bath time can be a challenging task. Your home's dog washing station will make this necessary task much easier than wielding the garden hose in the back yard. One great spot for a dog washing station is in the mud room/laundry room. Add some extra plumbing lines, an elevated shower platform and a spray shower head and you're ready to keep Fido well groomed.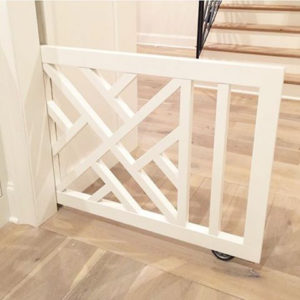 In more temperate climates, consider an outdoor shower/washing station for dogs and humans alike when they return from messy outdoor activities.
Built-in Gate
Unlike babies who tend to outgrow child gates, there are times when you need to restrict your pets' movements to a certain area in the home. Enter the built-in gate. Have your finish carpenter craft a wooden gate that allows for visibility and provides for a sturdy barrier for your pup. Allowing them to see where you are can cut down on anxiety issues. Set it on hinges to fold back or treat it like a shorter pocket door to hide away when not in use.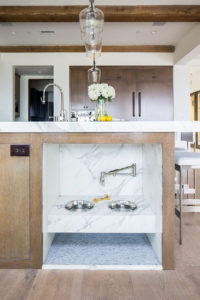 Feeding Station
Make sure your pup has their own place in the kitchen that provides easy access to food and drink, while keeping them out from underfoot. Situate your dog feeding station at the end of a kitchen island or in the mud room to separate dog feeding from kitchen activities. One great addition to a feeding station is a water spigot to fill the water dish at that level. Consider a tilt out bin big enough for a 30-pound bag of kibble and you'll be completely organized!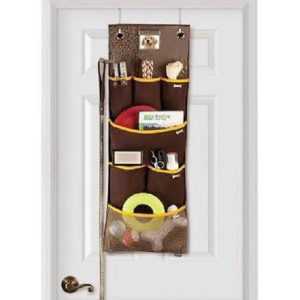 Toy & Leash Storage
Our furry friends often have more toys or "babies" than they know what to do with. Keep them out of site when rotating through your dog's selection with a pup closet. Hang a shoe organizer on the inside of the closet door to hold balls, squeaky toys and treats. Inside include plenty of hooks and shelves for leads, leashes, collars, sweaters, lifejackets, bandannas and other dog accessories.
Fencing for Safety
When your dog gets the "zoomies," make sure he stays close to home with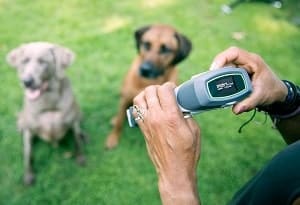 some kind of fenced area. Many homeowners like the invisible fence with perimeter sensors and electric collar to identify dog boundaries early on. If your home has some wild land, consider a sturdy wire and cedar post enclosure in the woods to allow for active rambles and cool retreats. Another option includes attaching a small run to the side or back of a garage to give safe indoor-outdoor access. Some more technical-minded dog owners are opting for virtual fences, powered by collar transmitters, GPS and Wi-Fi signals. One dog fence company, Spot On allows customers to create wireless fences with any shape or size using a sensor collar and a smart phone to keep track of your dog. The app allows dog owners to configure the size of the fence, from 0.5 acre to 5,000 acres. The app has escape notifications, location status updates and easy map management via your smartphone. While the initial investment is a little steep, the flexibility is what makes this solution so appealing.
Whatever unique dog-friendly additions you include, your Katahdin Cedar Log Home will be a dog friendly refuge for years to come!