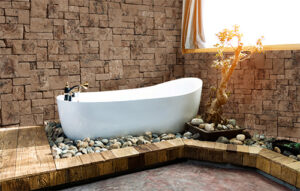 Stonework is an essential component of many Katahdin Cedar Log Homes. Inside or out, stone work complements the log walls and creates stunning focal points in your custom designed log home. A new finish product called Evolve Stone provides the look and feel of stunning stone work, without the weight, cost, or time-consuming, expensive labor.
Conditions in today's construction market often puts stone work out of reach for many homeowners. Masons are in high demand and scarce. These artisans often work slowly to achieve the desired look. It's not unusual for work to stall  while waiting for the scheduling and completion of stonework in a log home.
Using true stone also affects the structural design of the home, especially a large granite fireplace, chimney or exterior stone feature. These elements require attention to the load bearing capacity of the stonework underpinnings, whether it's a foundation,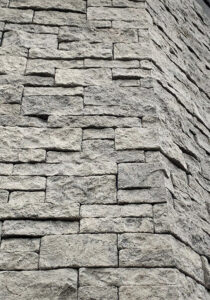 floor system and loads supported by rood and wall systems.
A Smart Alternative to Stone
Evolve Stone's Mortarless Series Stone product answers many of the challenges for adding stone work to a new Katahdin Cedar Log Home. For starters, it's beautiful. The feel and look of each of the five stone patterns are indistinguishable to the real thing and are taken from actual examples of each type of stone work. Each pattern is available in four colors:
Dune — warm brown tones
Kodiak Mine— mix of gray and dark brown
Morning Aspen— medium charcoal gray
Phantom Shadow— medium gray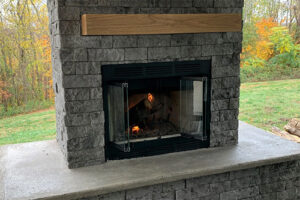 Evolve Stone "Nailed It"
That was the catchy line from the 2022 International Builders Show when the product was awarded the Best n Show award and Most Innovative Building material among stiff competition from around the world. Besides its exceptional good looks, installation is a breeze using a finish nail gun. No special training required or heavy equipment! Your Katahdin Cedar Log Home will get the look of genuine stone work without the labor-intensive and costly downsides of stone.