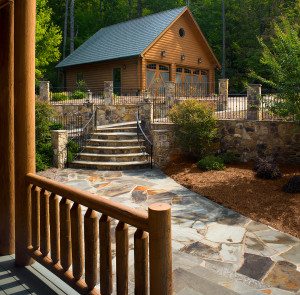 Garages can be so much more than just a parking space for your vehicles. Many homeowners are designing garages to be an extension of living space, bonus activity rooms and efficient and effective storage for everything from sports equipment, to holiday decorations, to power for the home. A little extra planning can allow your garage space to take on new duties both now and in the future. Here are our top six additions to consider for garages:
Extended Radiant Heating—A heated garage space can be a big improvement in a cold climate, even if you're just parking your vehicles. If your home is using geothermal or solar hot water systems, it's not going to be much of an increase to run radiant flooring in the garage slab. Make sure it's on a zone to control seasonal changes. As with any heated space, you'll want to insulate and properly seal the walls to keep the heat in. This addition will extend the potential usable space in the garage to year round activities, as well as make it easier to start the cars in the morning.
Rough-in Plumbing — Even if you don't think you'll need expanded space, roughing in minimal plumbing for water and waste will save a lot of retrofitting dollars down the road. Having the ability to expand to an in-law apartment, extra play area, guest suite, or game room is made so much more practical when you can add a bathroom or kitchenette.
Roof System Options — Most garages are constructed with simple trusses. But if you increase the overall height of the walls enough and use attic trusses for more standing room, you've just doubled the functional space in your garage. Even if it's just for storage now, isn't it easier to store things when you can stand up? If you decide to expand in the area over the garage, adding a dormer or two is a lot more affordable if the ridgeline height is already there.
Exterior Add-ons— Use the garage as a structure to add other amenities to your log home. If you've got a south facing wall, try adding a small greenhouse for gardening. A shady wall might be a great spot for a quiet screened porch area away from the main house. Depending on the configuration of your home, additional options include an outdoor kitchen area, pool house, hot tub or sauna.
Solar Powerhouse— Depending on the orientation, a garage is an excellent location for solar panel arrays. Solar hot water tubes can provide hot water for the whole house or just a pool or hot tub. Hang a pair of Tesla Powerwall storage battery units and you'll be able to recharge your electric car or keep essentials running when the power's out. Garages are also excellent locations for inverters for your solar panels.
Let There Be Light— One of the keys to having a usable garage is being able to see what you're doing. Big Ass Fan's Big Ass Light Shop LED is a bit over the top, but it gets the job done. The light panel can throw out 13,000 lumens to illuminate even the darkest corners of a typical garage. Its one-piece frame construction and simple installation make it an easy, if pricey, option for garage illumination. Plus, it's available at the local Home Depot.
There are plenty of ways to get creative with the garage bonus space. We hope that you include some of these ideas in your garage! Of course, Katahdin can include a custom garage design to blend seamlessly with your beautiful new log home. Just let us know!