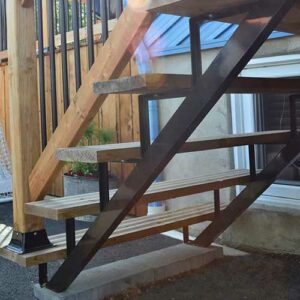 No matter which Katahdin Cedar Log Home design you build, the chances are pretty good that your home will have a deck, porch, or exterior stairs—maybe all three! Here are some innovations spotted at the recent International Builders Show to make your deck or porch beautiful:
Pylex Aluminum Stair Stringers
Stringers provide the basis of any stair construction and can cause the most trouble if installed poorly or become damaged. Canadian company Pylex produces stringers manufactured from aluminum in configurations to handle stairs up to 123.5 inches high or 15 steps. Sections can be configured to any step count using a combination of 4- or 5-step sections or single spans up to 7 steps. For assembly lengths, the joints are reinforced by two beams inside the tubes to provide sturdy construction. The stringers are available in either white or black powder coated baked finishes.  These stringers can be used with steel, wooden, or fiberglass steps and rails.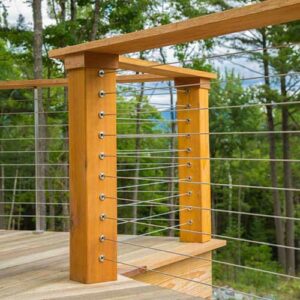 Viewrail Rod & Cable Railing
One essential benefit of your Katahdin Cedar Log Home's deck or porch is the view. Yet often the view is obscured by railings that block that view when you're relaxing in your favorite Adirondack chair. You can't skirt the code requirements for railings, but you can open up the view with cable or rod railing. Viewrail makes both rod and cable railing systems that are customizable and offer safety, durability, and an open view from every angle.
Or go completely transparent with Viewrail's Glass Railing. The railing is mounted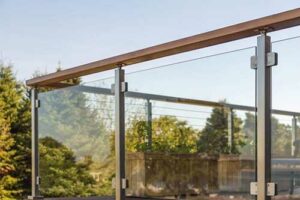 on posts, pins, base rail, or talons depending on your desired design. The tempered or laminated tempered glass is built to withstand hurricane force winds, stronger than required by code and eliminates the need for re-tensioning or adjustment sometimes needed with cable rails.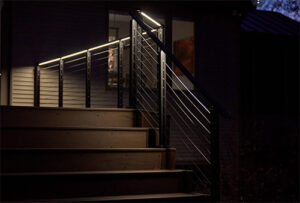 Viewrail also has LED enhanced Quick Slide handrails on the books for availability in the coming months. These rails put lighting where it's needed making your stairs safe to navigate.
No matter how you choose to customize your Katahdin Cedar Log Home's decks, porches and stairs, you'll be sure to have plenty of beautiful and time-saving options.