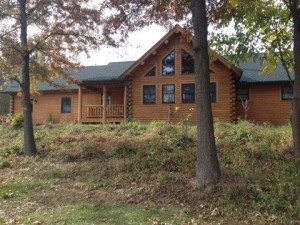 We've just added another of our popular Log & Learn Seminars on Saturday, December 12 in Hershey, Pa. You'll get answers to your log home questions and can meet with knowledgeable dealers in your area. Plus, you'll tour a nearby Katahdin Cedar Log Home (right) and we'll provide lunch! Space is limited so reserve your spot now.
The Johnson's Log Home and Timber Frame Show in Seven Springs, Pa., is a great way to finish up our fall schedule. There are so many great areas to build in Pennsylvania, and we will have plenty of dealer input at this show for a big part of Eastern Pennsylvania.
Log Home shows are the perfect place to get answers to all your questions about log homes.  There are lots of options and many different ways to build log homes and we encourage folks ask as many questions as possible while we're in the area. We understand a log home is big investment and so it's important to understand exactly what we provide. We're happy to provide quotes and cost comparisons, if you have plans you'd like to bring along. You'll be pleasantly surprised by our answers!
Stay tuned for more log home events in the New Year, where you can meet with our knowledgeable, local dealers as well as learn more about the log home lifestyle up close.  Also keep an eye out for Katahdin Log and Learn Seminars in the coming months as we schedule them.