When Don and Shelley Stewart first visited Pittsburg, N.H, they fell in love with the location.  When the time came to build their family retreat, they wanted to create a destination that would serve their family for generations to come. Though they had first explored conventional construction, their builders, Harold (Chummy) and Lynne Lassonde of Mountain View Construction suggested they consider building a Katahdin Cedar Log Home for these benefits—longevity, beautiful design and modern building technology. The result of their careful planning and collaboration is a stunning retreat that is sophisticated, light and airy.
Sweeping Vistas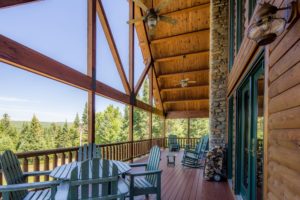 Situated at the top of a gentle slope, the Stewart's Katahdin lodge commands stunning western panoramas. "The sunsets from the upper deck are so beautiful," exclaims Shelley. "My dream was to have wraparound decks for entertaining and relaxing." The 16- by 42–foot wide decks can comfortably accommodate groups of friends the Stewarts host throughout the winter season. The views don't stop at the doors— an extensive wall of windows brings the outdoors into the great room.
The Wow Factor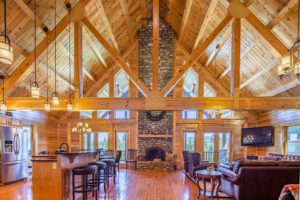 Together, the Lassondes and the Stewarts carefully choreographed the dramatic floor plan of their north country lodge. During construction, the couple made the trip north from Massachusetts each Friday. Upon their arrival, they found that Chummy, Lynne and the crew had cleaned up the site for inspection. As a part of their weekly ritual, Chummy would leave the lights on for their "one wow factor" surprise. "Chummy and Lynne were so happy with how happy we were," said Shelley.  And "wow!" is certainly an exclamation that is top of mind when walking through the 5,550 sq. ft. lodge.
Broad Entryway
The front entryway was designed to allow guests to enter comfortably yet shield the main living area from the bitter winter cold. The hallway makes a left turn to connect with the great room. "It was a good thing the hallway is eight feet wide because people just stop and stare when they see the amazing great room," Shelley explained.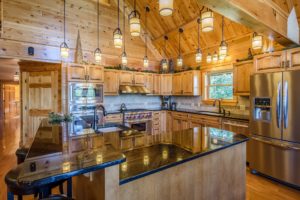 Gourmet Kitchen Designed for Entertaining
Shelly wanted a high-end kitchen where she could prepare meals for her family and guests. Featuring a professional Wolf gas range, extra wall oven, and oversized French door refrigerator, the Stewarts can create tasty meals for their guests. Adjacent to the kitchen is a large butler's pantry to stow countertop appliances and dry goods. "It helps to keep the kitchen counters clear," Shelley said. She especially loves the dramatic black granite counters throughout the kitchen.
Room  for Friends & Family
The Stewarts designed their destination home with entertaining in mind. The lodge features 7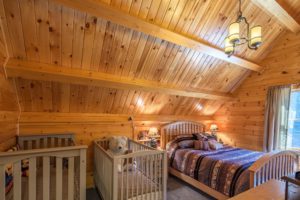 bedrooms and 5 baths, with three ensuite masters, one for each family member. Their daughter and her family have one set of bedrooms and a bath on the loft floor; their son has a separate master on the main floor. The lower level has two additional guest bedrooms that share a bathroom. Finally, a 6-bed bunk room provides expanded sleeping for kids and overflow guests. All told, the lodge can comfortably sleep 5-6 couples or 22 individuals.
Game Room Fun
In addition to the main great room, the couple also planned a well-stocked game room in the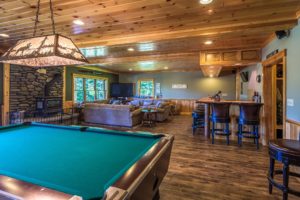 lower level. The walkout lower level has a home theater with custom sound system, a well-appointed wet bar, a pool table, foosball, and gear lockers for guests to stow their winter snowmobiling gear. "We installed electric radiant heat in the lower level so we wouldn't have to worry about snow," said Don. "It just dries up!" The custom live edge slab bartop is one feature in the lower room that Chummy designed and crafted for the Stewarts to add just the right touch to this entertaining area.
Keeping it Warm and Cozy
When it came to heating this expansive lodge, Don selected a commercial grade, high output, double tier baseboard heat to handle the wide open spaces inside. This higher BTU propane heating system is designed to counter the sometimes extreme winter weather in this northernmost part of New Hampshire. Understanding that demands for domestic hot water —showers, cooking, laundry— would be high, the plumbing uses ¾ inch water lines for ample flow.
A Gathering Place with Heart
Both Don and Shelley wanted a vacation home that was as big as their hearts to welcome their friends and family. "The whole thing wouldn't have been possible without the incredibly awesome craftsmanship of Chummy and Lynne," Don said. "It was important to both of us to have a place where there was room for everybody—life is so much better when it's shared," Shelley added.