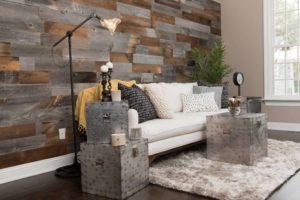 So-called "feature walls" can add a design spark as well as a great focal point for decorating. We especially like using reclaimed barn wood as a decorative feature wall for its weathered good looks and interesting grain. Up until now, a reclaimed barn wood feature wall required a relatively permanent installation. But a new product, Artis Wall™ , allows homeowners to install a dramatic barn wood wall without having to commit to a long-term look.
The idea was born from Will Kimmerle's desire to decorate his loft apartment. As a renter, he was limited to options that wouldn't forfeit his security deposit. Kimmerle happened to work at an Ohio sawmill that manufactures flagpoles, among other products. He saw there might be potential for recycling beautiful barn wood into veneer panels that could be applied easily to his walls, then removed without damaging the underlying surface.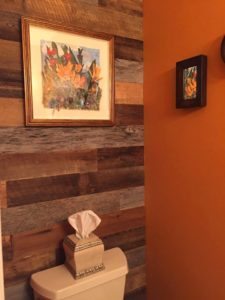 According to Kimmerle, "We designed Artis Wall to function with the portability of furniture, so that it could be installed, taken down and moved to another location without leaving any evidence behind." The product they developed, Artis Wall™, is a terrific design option. Even more compelling is the way they source the barn wood they use!
Easy Application
First, an explanation of the how the product works. The Artis Wall™ system starts with adhesive strips of loop materials called A.I.M.™ After the wall surface is cleaned, A.I.M. strips are installed in 10-inch intervals. Then the Artis Wall planks are applied to the strips. Their hook sided material attaches to the A.I.M. loop strips to hold the barn wood planks on the wall firmly. For a horizontal pattern the A.I.M. strips are placed vertically. If you'd prefer to run the planks vertically, the A.I.M wall strips would go on horizontally. Other options like herringbone patterns give you plenty of decorating options.
Sourcing Barn Wood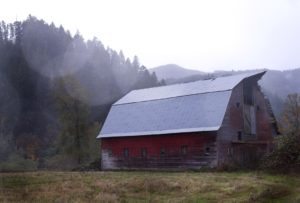 To ensure the product is sustainable, Artis Wall sources its barn wood in a unique manner. First, their teams will scout old barns in rural areas that look like they have useable barn wood. They then offer to rebuild the exterior shell of the barn, plank by plank, replacing the old boards with new wood. The farmer gains a newly refurbished barn and the Artis Wall team recycles the weathered barn wood.  To connect their customers with their individual barn, each plank of the final product comes with a code to discover the restored barn's story.
These Artis Wall barn events become a community effort with farmers and neighbors joining with Artis Wall workers to systematically replace old planks with new fresh wood planks, usually in a single day of concerted effort. Whole families gather and the day becomes a festive event.
The repurposed barn wood is transported to the mill where it is planed, sawed into lightweight veneers, and finished with a smooth sleek look to highlight the grain. Each plank yields quite a large area of veneer so the planks go a long way! Be sure to stay tuned, as the folks at Artis Wall are developing new designs and materials for future planks.