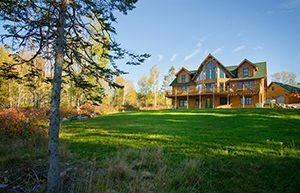 This month we explore residential fire sprinklers to protect you from fire inside your log home. There are some excellent reasons why you should consider including fire sprinkler systems in your new log home, even if the code does not yet require it in your area. We spoke to Jeffrey Hudson, Residential Fire Sprinkler Specialist from the National Fire Protection Association about innovations in sprinkler systems. But first we look at the real story about why we are talking about sprinklers.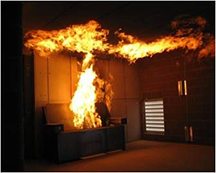 Increased Flammability
Modern homes, including log homes, are much more susceptible to fast-moving fires because of the petroleum-based products they are filled with: furniture, flooring, draperies and appliances are much more flammable than they were 20 years ago. In firefighter lingo, a flashover is when gases and the flames combine to an explosive level and the structure is quickly consumed. Twenty  years ago, when Hudson was an active firefighter, he had approximately 20 minutes before a residential fire would flashover. Now with the increased flammability of home contents, the flashover is three minutes or less, he said.
Longer Fire Response Times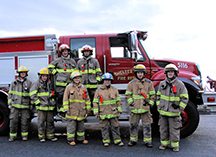 In many rural areas, where many log homes are constructed, the fire department is a volunteer organization. In cities where fire professionals are full time and round-the-clock, response times are quick. In rural areas, especially during daytime work hours, a volunteer fire call may take as long as 20 minutes.
These two factors— flammability and response times—add up to a potential safety and property loss with tragic consequences. What modern residential sprinkler systems are able to do is to suppress the fire in the room where it starts before it flashes over, allowing your family to evacuate safely. With sometimes seconds to respond, small children or less mobile adults gain valuable time to escape without injury.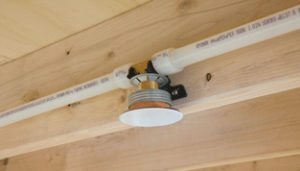 Modern Innovations for Residential Sprinkler Systems
Hudson, who included a sprinkler system in the design of his recently constructed home said that homeowners should compare a sprinkler system to an additional, limited plumbing system. In fact, often the sprinkler system can be run parallel to conventional plumbing. Chases and access for sprinkler controls are located within interior walls and the piping is small in diameter. We've spoken to several sprinkler engineers who have offered different solutions for unobtrusive sprinkler heads and piping within log homes, including using paintable piping, black painted iron piping or concealing the sprinkler heads inside beams. The recessed heads are barely visible in most applications. According to the Home Fire Sprinkler Coalition, fire sprinklers have no moving parts and act simply as a water plug that releases at a particular hot temperature caused by a fire. The systems work very well, mostly because they are very simple in design. The sprinkler heads in vaulted ceilings should be located high up on the ceiling, approximately 1/3 of the way from the peak. Hudson notes that with all the pieces we have in ceilings—including smoke detectors, ceiling fans, and lighting—the small-gauge sprinkler heads and pipes are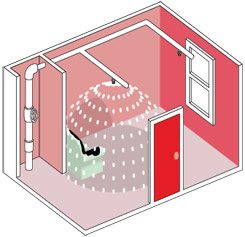 largely unnoticeable.
Pinpoint Response
One misconception about sprinkler systems is what actually happens when a fire is detected. The sensors are designed to activate when heat — not smoke — is detected. When enough heat is detected to indicate a fire, the activated sprinkler will spray water to suppress the fire. In 90 percent of home fires, Hudson explained, only one sprinkler head will activate. The myth of the entire home doused in water from every sprinkler head is simply inaccurate. The system reacts only where the intense heat of a fire is detected.

Options for Rural Log Homes with Private Water
Many homeowners don't realize that municipal water is not required for a residential sprinkler system. The solution for pressurizing the water in rural systems is relatively simple. The sprinkler system requires a minimum 250-gallon water tank, which is pressurized with a pump about the same size as a residential swimming pool pump, according to Hudson. The tanks are available in a range of sizes and shapes and can be located against a wall or in a closet space.
How Much Will a Residential Sprinkler System Cost?
Residential sprinkler systems are essentially a specialized plumbing installation. However, they do require a fire safety engineer to design and install according to National Fire Protection Association (NFPA) 13D specifications. On average, residential sprinkler systems in new construction cost an average of $1.35 per square foot according to the Home Fire Sprinkler Coalition. An added bonus is that most homeowners' insurance offer a 10-15% premium discount for installing a sprinkler system. They recognize the lifesaving safety features as well as the ability to prevent major loss from fire.
If you're planning to include a home sprinkler system in your Katahdin Cedar Log Home, you'll want to alert our design team so that your plans can include chases and locations for all the components. Your fire sprinkler company will need to design the engineering for the system, and we are happy to coordinate directly with them to ensure placement meets specifications.
If you're interested in researching more, here are some great resources:
The Home Fire Sprinkler Coalition