Many folks spend little time on the design and features of their log home roofs, other than to select architectural shingles or a metal roof. However, there are some additional features to consider adding to your log home rooftop. We found five upgrades that can make a difference in looks and style: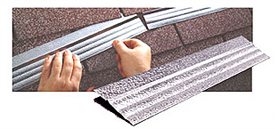 Zinc Strips for Stain Prevention – This is a super solution to an annoying problem that uses rain to help eliminate fungus, moss or algae growth on a shingle style roof. These growths can appear on northern facing roofs and can discolor and stain your roof. The solution is relatively simple, especially on a new shingle roof. Shingle Shield zinc strips are inserted underneath the overlap of shingles, near the ridgeline. When it rains, the zinc strips release zinc oxide molecules that wash down the roof and eliminate the fungi, moss or algae that can accumulate.
Edge Ice Melt Systems – These systems are designed to prevent ice damming, replacing zig zag heat cable and aluminum metal track systems. HotEdge offers several versions of their HotEdge® Roof Ice Melt systems. Unlike cables and racks, the HotEdge uses 30% less cabling and achieve maximum surface melting. The system relies on direct heat transfer to save as much as a third of energy costs as well. The system even works in higher elevations, making it a good choice for mountainside log homes. The product comes in three HotShingle grades, along with valley and flashing options. The system works on any type of roof and is available in 15 different colors, including natural copper, which is a terrific look!
Weathervane – Nothing says classic country design more than a beautiful weathervane on the peak of your roof. The great thing about this upgrade is the wide variety of shapes available for the vane topper. From traditional roosters and ships to more modern, whimsical designs, a weathervane can capture your personality and interests perfectly. Plus, it will give you the wind direction at any time!
Copper Chimney Caps – Anything copper makes such a beautiful statement on your roof, but these copper chimney caps are particularly elegant. They perform a function by keeping debris and the elements out of your chimney. Chimney caps come in many different designs from traditional to contemporary. One great source for chimney caps (as well as weathervanes) is Weathervane.com.
Weather Station – If you're interested in tracking the changes in weather, a rooftop weather station is a great addition. New technology combines wireless monitoring, solar powered measurement and a full color touch screen monitor for inside the home. Check out the AcuRite Pro- 5-in-one Weather Stations which offer a great collection of features and styles for every weather enthusiast.