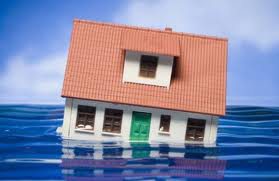 With the devastating floods from early hurricanes this season, it seemed to be a good time to review flood insurance. Many homeowners in high-risk locations are well aware of flood insurance, which is required for federally financed mortgages, and may be required by private financial institutions.
Even if you're not located near a body of water, water damage can still catch some homeowners off guard. Reconfiguration of drainage from new construction, or unusually high rainfall rates can cause intermittent flooding. Even a few inches of water in your home can cause a lot of damage.
Damage from flooding will likely not be covered by your standard homeowners' insurance policy. Insurance companies are required to offer National Flood Insurance Program (NFIP) but pricing and coverage can vary from company to company. For an excellent resource for flood insurance information, risk factors and types of coverage, check out FloodSmart.gov.
For a quick overview, here are some facts:
Federally insured financing requires flood insurance for homes in high-risk areas. Low-to-moderate risk areas are not federally required to have flood insurance, but lenders may still require coverage. Coverage is highly recommended to anyone financially vulnerable to flooding.
Despite the low risk to flooding in low-to-moderate zones, some 20% of NFIP claims are filed by residents outside high-risk areas, according to FloodSmart. Fully one-third of disaster relief in the form of low-interest loans, are received by residents outside high-risk zones.
Residents in Vermont suffered more from the effects of erosion than from actual water damage. The floodplain maps referenced by NFIP for high-risk areas do not include the potential for erosion damage, only focusing on the potential for water flooding.
Participation in NFIP must be initiated on the community level. Nearly 21,000 communities participate in NFIP and have developed floodplain plans to understand their flood risk. Consumers may petition their local government to have an assessment and develop a plan.
NFIP policies are divided into two parts: dwelling and general property. The dwelling portion of the policy defines the amount of coverage for the physical structure, while the general property portion defines the coverage for furniture, appliances, and general personal property. Preferred risk policies for low-to-moderate risk areas start at $129 per year.
The NFIP has a One-Step Flood Risk Profile that uses a street address to assess risk. The Flood Risk Profile then details the level of risk, an estimate of annual premium costs and identifies NFIP insurance agents in the area.