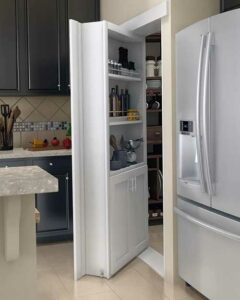 Savvy Katahdin Cedar Log Home owners know it's essential to use every bit of spare space wisely. That's why these Murphy Flush Mount Pantry Doors are a terrific storage addition to a kitchen design.
How does it work?
Open the pantry door and the inside features 15 cubic feet of storage that include:
2 adjustable spice rack shelves
1 adjustable standard shelf
1 fixed standard shelf
An optional lower and upper 2-door cabinets is also available, along with extra shelving and spice racks.
Two Types of Wood Cores
The pantry doors are constructed from either MDF or plywood. The MDF core is made from recycled hardwood, which is ground into a sawdust and mixed with a resin and compressed together. MDF is covered by a full year warranty, while the plywood carries a 30-day warranty. Veneers are applied to either wood core for the finished door product.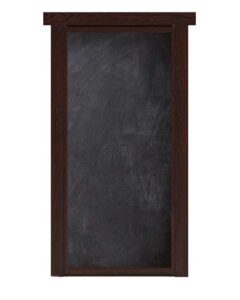 Smart Looks
The exterior of the door can be fabricated with one of six wood veneers, paint grade finish or decorative insert. Two decorative inserts include an etched glass PANTRY or a chalkboard (see left) to keep track of appointments, shopping lists or family messages. If a painted surface is desired, the doors are available as paint grade, or moisture-resistant paint grade MDF for an additional $100. A selection of wood types include available at extra charge: Oak, Maple, Knotty Alder, Cherry, Hickory, or Walnut. Finish types include unfinished (at no charge) or clear, medium, cherry, dark or walnut stains.
Murphy offers swing-in and swing-out, and left or right hinge configurations to suit your home's layout. The company also offers two styles of entablature trim to further enhance the pantry door appearance. Doors can accommodate a maximum of 50 inches wide and up to 96 inches high before custom design is required.