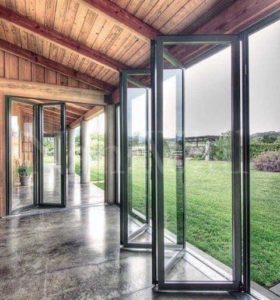 Expand your access to the outdoors in your Katahdin Cedar Log Home with folding glass walls. Many Katahdin designs feature lots of glass in great rooms and master suites but folding glass walls provide seamless passage from indoors to nature's beauty. Sunflex is one manufacturer that offers a wide selection of custom glass walls for interior and exterior use.
German Engineering Designed in the U.S.
Sunflex folding glass doors and panels are available in a wide array of options. Since many Katahdin Cedar Log Homes are built in cooler climates or in higher elevations, the SF 55 Series is available in insulated aluminum with an interior wood cladding option. The SF75 offers a high insulation factor for more extreme climates.  Sunflex's Marco Bickenbach explains that because Europe's efficiency standards are much higher than the U.S, these folding glass panels are more advanced. The parts of the folding glass panels are manufactured in Germany and then the custom folding panels are assembled to specifications in the company's Florida location. The original designs were conceived more than 30 years ago and since that time, Sunflex has been a leader in design and functionality for folding glass barriers.
Explore Different Applications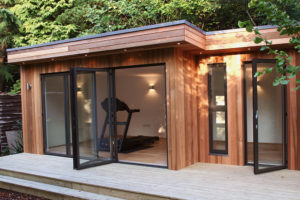 While most homeowners select folding glass doors for deck, terrace or porch access, Sunflex has interior and exterior designs that provide barriers and definition in locations where insulation is not required. One potential placement for a non-insulated barrier might be the SF 35 series of patio enclosures. With double glazed glass the SF35 offers some insulation, noise controls and improved tightness over other all glass enclosures. A great placement for this sliding glass door option might be as a hot tub surround to maximize view amenities, minimize wind effects and cut condensation.
Home Office Space Glass Walls
For dedicated home office areas, Sunflex interior glass walls offer privacy and separation while keeping sightlines open. Glass barriers have dual functionality: close the glass wall for Zoom calls and open them to monitor family activities in adjacent rooms.
Every Design is Custom
According to Bickenbach, Sunflex folding glass walls are completely custom designed. Their experts can work with you to design the folding or moving glass wall to meet your specifications. The design's flexibility allows customers to provide stacking compartments for folded back panels or can slide glass panels far away from openings for safety. Coated glass to diminish solar heat gain or UV damage can also be designed into the folding wall schematics. The glass walls can be installed by most qualified window and door installers with detailed directions for successful installation.