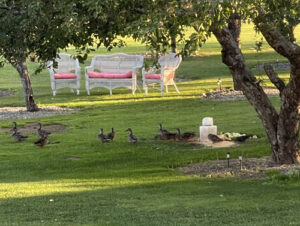 When Katahdin Cedar Log Homes hosts their Logapalooza events we talk extensively about ways to enhance your home's energy efficiency, through orientation, window placement and wall insulation. Another element that can be very beneficial to your home environment is planting fruit trees. Fruit trees can grow quickly and their generous leaves can provide welcome shade and cooling to your yard and home.
Select Local Species
While you may have dreams of growing oranges in your back yard, your home climate in New England will not support citrus trees. So, it's important to identify fruit trees that are hardy in your zone, as well as provide fruit that you and your family enjoy eating. Take into account the size of a mature specimen when mapping out placement. You'll want to keep branches away from your log home exterior so a placement at least 8-10 feet from the dwelling is best for future growth and home maintenance.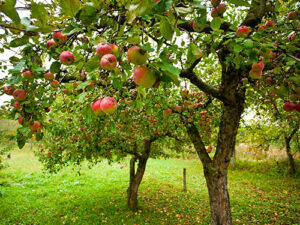 Proper Planting
Follow the advice of your local nursery regarding the size of hole you dig and preparation with soil amendments and fertilizer. If you plan to plant multiple trees at once, consider hiring a professional tree company. Their trained arborist can identify the best fruit trees to plant, when to plant them and how to care for them. Tree services will also have equipment that can take the hard labor out of digging the proper hole for your new landscape additions.
Maximize Your Fruit Trees
Some fruit tree owners swear by placing crushed stone around the base of fruit trees, which allows fertilizer to reach the tree roots rather than feed the grass. The stones can discourage deer from chewing on the bark and keep weeds at bay. Other tree enthusiasts encourage tree owners to apply mulch around the base of their fruit trees to provide nutrients and keep moisture in the ground near the roots. Adding birdfeeders within your fruit orchard will attract bug eating birds to your trees. Plus, they provide a beautiful addition to your local wildlife!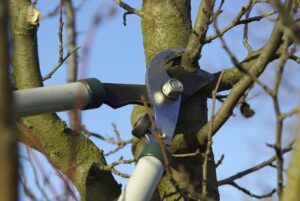 Pruning to Promote Fruit Production
Fruit trees require some maintenance to help them produce fruit and maintain health. Pruning is usually done over the winter months in apple orchards, mostly because it's a down time for farmers. Home fruit trees can be pruned in the fall or the spring, depending on the tree species and climate. You'll also want to keep an eye on potential pest damage. There are many organic options for keeping bugs and disease from diminishing your harvest. Some local tree companies offer tree spraying in the spring and during the growing season for convenient care.
Optimal Placement
For the best effect for enhancing your Katahdin Cedar Log Home's efficiency, place fruit trees so that their foliage casts shade on south-facing windows. In the winter, the bare branches will allow warming rays to help keep the chill off.