Last month we covered garage doors and the broad range of options available for homes today. If you missed it, here's a link to the article.  This month we cover the mechanical component of garage doors: the opener. There are a lot of options out there, and we found some good examples for specific situations often found in log home garages.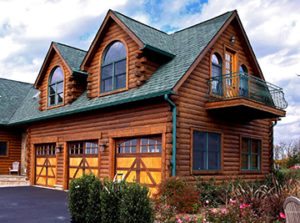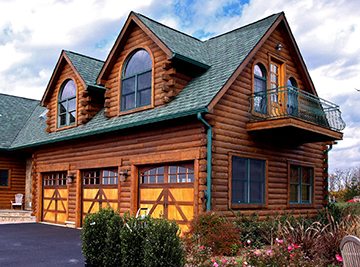 Like many appliances in our daily lives, garage door openers have evolved into many different styles and configurations. Which one you select will depend on a number of factors. We've mapped them out below:
Select your garage doors first. The garage door style and configuration will determine how powerful your garage door opener will need to be to lift the door and push it back down. If your doors are lightweight fiberglass a less powerful lift motor will be required. Make sure you know the weight of your preferred garage doors, so that the contractor can specify the right-sized lifting unit. Wind-loaded doors can add steel reinforcement, so if local code requires wind loading, make sure your lift system can handle the extra weight.
Quiet Operation. Lift mechanisms are powered by either a DC or AC motor. AC motors are generally less expensive and provide power and durability over the long haul. DC motors operate much more quietly, and are ideal for locations where living areas are over the garage area and opener. Motors offer a range of horsepower from ½ to 1-1/4 HPc. (Note: because DC motors don't produce power the same way as AC motors do, manufacturers use HPc to denote an equivalent horse power rating.) As the HPc increases, so does cost, so you'll want to make sure the lift motor has just enough power for the weight of your garage doors.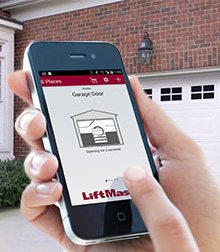 Connectivity. Like many home appliances, many lift systems offer internet connectivity for remote operation and    monitoring from a smart phone or tablet. Lift Master's Elite Series offer smartphone controls for door operation, lighting and security.
Lighting. Often called courtesy lighting, for the best efficiency select LED lighting, which provides bright, effective lighting with much less energy. Additionally, LED lights will last much longer, so that you can avoid frequent bulb changes that inevitably happen on the coldest day of the year!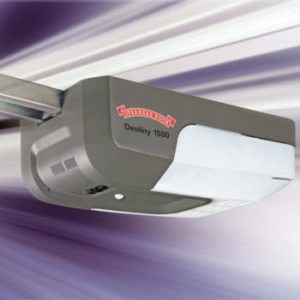 Drive Options Garage door openers have traditionally been operated using a chain drive, but newer models also offer belt and screw drives. The latter two can offer a quieter operation. Overhead Door's Destiny® 1500 Screw Drive opener offers a patented direct drive DC motor  with additional power of 1-1/4 HPc (see note above for HPc definition).
Battery Backup While power door lift systems have emergency handles for manual operation, if your location is remote and subject to frequent power interruptions, consider a lift system equipped with a battery back-up pack. You'll be happy to be able to enter your garage at the touch of a button when the power goes out!
Wall Mounted Lift. Not enamoured with the ceiling-mounted lift system? Check out Lift Master's Elite Series 8500 which is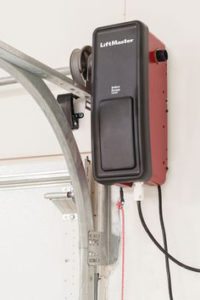 mounted on an adjacent wall, especially if ceiling space is restricted, or you're including extra high clearance openings for taller vehicles.  Additionally this wall mounted lift unit is good for designs where bedrooms are located over the garage.
Tall doors need extra power. If your garage door openings are extra tall to fit your John Deere tractor, German manufacturer Marantec offers their Synergy 280 to lift doors up to 14 feet tall.
Security Options. The garage door is often an entry point for burglars and other bad actors. Many systems offer enhanced security, including radio remote controls. Home Link systems that enable your automobile to open the door through its electronic systems are also available on many models. A touch keypad is another option to allow access when the remote is not handy.
Safety Features. Building codes are pretty universal in requiring pressure sensitive settings and electric eye sensing to avoid injury to children and pets. Once your doors are installed, make sure the installer tests these features to make sure that all the settings are adjusted properly.