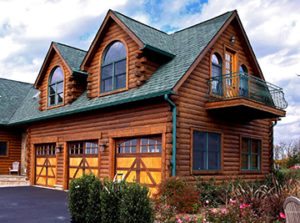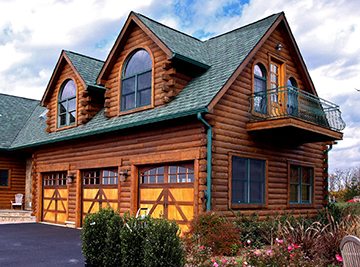 Garage doors are big. They make up the biggest entry into many homes with attached garages. And, they can certainly dominate the view of one side of your home, most often the front. When planning log home designs, often garage doors are last-minute decisions that can really have a big impact. So it's important to include garage doors in your design list.
Many Options for Garage Doors
Garage doors are constructed using many different types of materials, some designed for weight reduction, some for strength—including wind load reinforcement—and some for ease of maintenance. One manufacturer, Amarr, offers a broad range of options and has a handy online guide for choosing a garage door. Here are some basics:
Wood Garage Doors— These are the classic style doors and many companies are offering semi-custom designed options using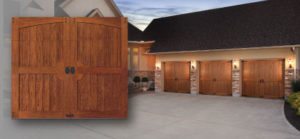 several templates. Clopay offers a number of stock wood designs in three options: raised panel, recessed panel and flush panel doors. The feature 1-1/3- or 1-5/8-inch thick wood with choices of hemlock, cedar or redwood species. Several designs offer optional windows and may be factory stained or primed. Wood garage doors will require ongoing maintenance.
Steel Garage Doors —Steel doors tend to be fairly rugged and require little maintenance, though they can be susceptible to rust in marine areas. These doors are often insulated using foam or rigid insulation inside the panels.
Aluminum Garage Doors —These are more contemporary in design, but also offer the ability to include large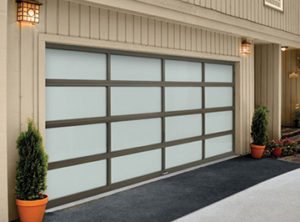 areas of glass for ambient lighting within the garage, rather than smaller window panel areas in other designs.
Vinyl Garage Doors — Resilient vinyl doors can be made to resemble wood garage doors without the maintenance and extra cost. These types of doors have evolved into many interesting and elegant designs and work in many different applications.
Wind Load Reinforcement
Another element to garage doors is their safety. According to the Federal Alliance for Safe Homes, residential wind damage begins via the garage door entrance in 8 out of 10 homes. In hurricane-prone areas, few homes in these areas have enough reinforcement in their garage doors, despite revised code requirements for wind load reinforcement in garage doors.
If you live in an area with frequent hurricanes, or experience occasional storms with winds in excess of 100 mph, make sure the new garage door you install includes wind force reinforcement.
Selecting a Style
Garage doors are quite varied in design, with contemporary, carriage house and traditional horizontal formats. You'll want to consider the fit with your log home's overall design. One tip is to try to match the look of your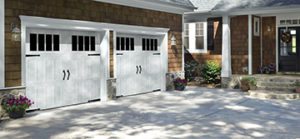 front door, as this is another focal point on the front face of your home.
Another option to consider is adding windows to the door design. This option is a great design feature that also helps to let natural light into the garage area. Natural light is a good option if you plan to have a workshop area in your garage. Again when considering windows, keep the window design on your home in mind when selecting from the many configurations. Six over six double hung windows might have a different garage interpretation than casement windows with undivided glass.
Don't forget the garage door opening in your design plan! Visual interest can be created with a gentle arch or trimmed corners in the opening instead of squared off openings. No need to alter the shape of the garage doors, they will slide behind the opening no matter what shape it is.
Another trend we're noting is making the entry into the garage a full 8 feet tall, rather than the standard 7 feet. This can accommodate any compact tractors or larger SUVs equipped with Thule racks you'll need park inside. You should check the dimensions of any oversized vehicles and their attachments you plan to store in the garage.
Energy Efficiency is an Important Feature
Most manufacturers offer their doors with a decent energy efficiency. Even though your garage may not be heated, your vehicles, tools and other store items will benefit from a more insulated environment. If you think about it, your garage is like a large airlock attached to your home. Keeping the wind and colder temperatures at bay will keep your home cozier all year round.
Next month: Garage Door Lift Systems — What You Need to Know! We'll cover the basics plus the many variables and features now available