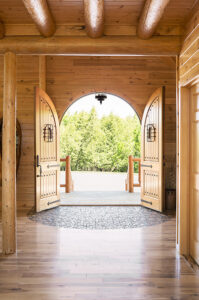 Planning for a grand entrance to your Katahdin Cedar Log Home can add style and drama to your façade. Whether it's an oversized door or a combination of two doors, there are plenty of options to consider.
Making a Grand Entrance
Log homes lend themselves to dramatic flourishes, with soaring truss and purlin roof systems and generous open spaces. Your front door sets the stage for the interior of your Katahdin Cedar Log Home. Start by looking for a manufacturer who specializes in oversized doors, like Grand Entry Doors based in North Carolina. Identify some styles you like and then get measurements. You'll want to provide the dimensions of your grand entrance to Katahdin's design department to incorporate it gracefully into your home design.
Oversized Doors are Easier to Navigate
Whether you're moving large pieces of furniture or planning for aging in place, wider doors make life a whole lot easier. While 32 to 37 inches is a standard measurement for wheelchair access, expanding the dimensions to a maximum of 48 inches wide. Beyond this width, the door will require a large swing space area inside, as well as have considerable weight, depending upon the materials.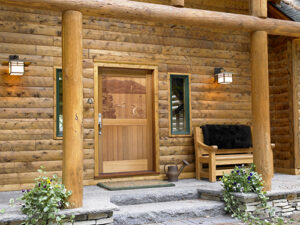 One Door or Two?
Sometimes it comes down to the scale of your homes forward facing elevation. If your front porch area measures less than 15 feet wide, you may opt for a single, wider front door to balance well with the overall dimensions. Take a look at arched grand entrance doors that can add a rounded aspect to the typically linear format of log homes. For larger log homes, a double front door configuration is a great solution for a grand entrance. Add arches, sidelight windows or transom light windows for additional appeal and enhanced natural light inside your entryway. For extra security on double doors consider adding a floor door lock mechanism to keep one side closed until needed.
Dutch Doors Offer Style and Flexibility
Splitting your entrance door horizontally into a Dutch style door has advantages, too. For active families, a lockable lower door section lets in fresh air while containing pets and small children inside. Make sure your design is well sealed to maintain efficiency when fully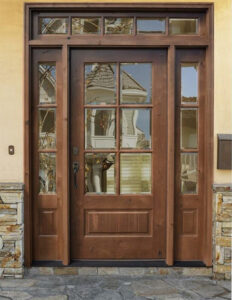 closed.
Start the Process Early
If you're considering adding a grand entrance to your Katahdin Cedar Log Home it's important to include it in design discussions with your dealer. He or she can offer tips on incorporating an oversized door or double doors to your front entrance.