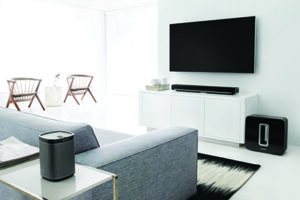 For fans of streaming, updating your home cinema experience doesn't need to break the bank. Whether it's blockbuster movies, action gaming or the latest Netflix series, sound is just as important as the square footage of your television screen. Sonos has a great array of sound bars and speakers to upgrade your viewing experience without breaking the bank.
Sonos Makes Home Theater Easy
With its painless setup, hooking up a new set of Sonos speakers is easy for anyone to do. Just plug in the speaker, download the app and make sure the Wi-Fi signal is strong and you'll have your speaker set up in no time. With their compatible speaker selections, adding or expanding your sound system to other areas of your Katahdin Cedar Log Home is a snap.
Get Started with a Sonos Soundbar
A soundbar to amplify sound from your television is the easiest way to get started. Sonos offers three different soundbar options in either black or white, Ray priced at $279,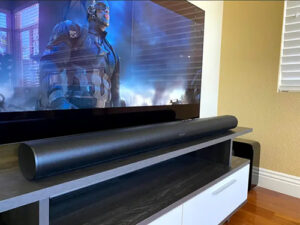 Beam Smart Soundbar at $449 or the Arc Premium Smart Soundbar at $899. Each offers clearer, sharper and more powerful sound than your standard television speakers. The smart versions each offer voice enabled, touch controls and Apple AirPlay compatibility. Smart Dolby Atmos creates a surround sound experience in the Beam and Ray soundbars for an exceptional experience. All of the sonic features are front facing, so the soundbars are able to be tucked away on consoles or mounted directly on the wall.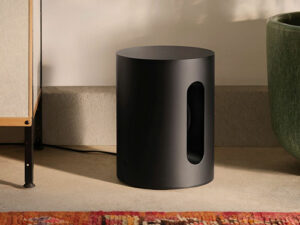 New Sub Mini Speaker for Bold Bass
Replicate your theater experience at home with the Sub Mini speaker ($429) for enhanced bass, providing the deep audio so essential in action movies and gaming. This wireless subwoofer deepens the Sonos sound output and just needs a spot on the floor next to the television. The Sub Mini syncs automatically with other Sonos speakers for a combined experience.
Plug and Play for Whole House Sound
Sonos also offers voice-controlled speakers to bring sound to every room in the home, from bathrooms and bedrooms to great rooms and kitchens. The Roam speaker ($179) offers vibrant sound with three exclusive colors, sunset, wave and  olive, as well as the standard black and white.
No matter how you get started in your Katahdin Cedar Log Home, these sound systems offer flexible sound and upgrade options to fit your entertainment needs.