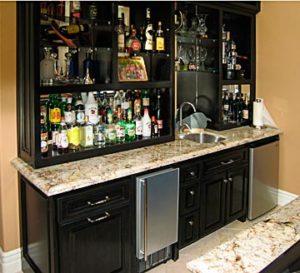 The winter sports season offers some wonderful opportunities for entertaining centered around the big game. Whether it's football, basketball hockey or soccer, having some friends over to enjoy the action is a great way to spend time over a weekend. For many folks including a wet bar as part of their log home design is essential for entertainment plans. We've taken a look at some of the great wet bar set-ups and have identified five elements that can really "make" your wet bar a star.
Plumbed Sink — Including plumbing in your design is the definition of a wet bar. A sink will accommodate quick cleanup and provide a water line and a drain for other appliances. Even if your bar area isn't completed right away, it's so much easier to rough in the plumbing when you're building rather than retrofitting later on.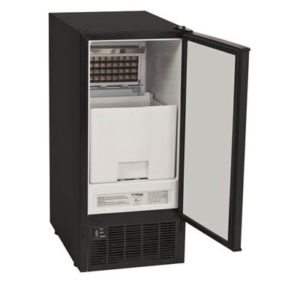 Home Ice Machine— An essential element for cocktails is a good supply of ice. Having a compact ice machine handy will keep you with your guests rather than running off to the kitchen or garage for bags of ice. We like the Koldfront Built-in Clear Ice Maker (right) for its sleek compact looks and 45-lb. daily ice production. It features computerized controls and a removable ice bin.
Home Kegerator — Keep your favorite beer on tap with a home beer dispenser or Kegerator. Many options are available but we think the Ultra-Low Temp Full-Size Dual Tap Kegerator is a great option. This unit has the capacity for one full sized keg or two sixth-kegs (or "pony" kegs) to give your guests a choice. It features a slim profile of 20.1 inches yet has all the features of a full sized keg unit. An external CO2 mount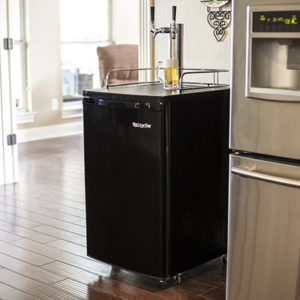 frees up interior space.
Refrigerator— If you plan on more variety for your beverages, you'll want to plan a space for a compact refrigerator. You'll have space for blender drink ingredients, snacks and mixers. Consider adding any of these appliances as part of your kitchen appliance purchase to save money on the total package.
Display Cabinets— Include glass front cabinets or multipurpose shelving to show off your glasses, liquor bottles and sports memorabilia. Include some well positioned LED lighting and mirrored backing to make your bar area glow with warmth.
Cheers! A little planning can set you up for years of fun times with your wet bar!