Ceiling fans are a great way to keep costs down and add decorative appeal and lighting to all areas of a log home. Most of today's ceiling fans are ultra quiet and energy efficient. But the real savings come from the way ceiling fans can help to move air around in your home.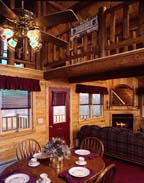 According to DIY Network, a ceiling fan can save up to 40 percent on your summer cooling costs, and up to 10 percent during the winter heating season. In the warmer months, ceiling fans create a "wind chill effect" where the temperature feels cooler to people in the room. For example, a ceiling fan can make an 85-degree room feel like 78 degrees. During the heating season, use the "reverse" setting to circulate hot air that rises to the ceiling. In the winter, it's also important to keep the fan speed low— just enough to push to warm air down. If you set the fan too high, you'll actually feel more chilly with the breeze on your skin. Also, if you're heating with a central source wood stove, ceiling fans can help to distribute the heat into adjacent rooms for more even temperatures throughout the home.
Look for ceiling fans that are Energy Star rated, and you'll save about 50 percent in operating costs for the fan and any lighting in the unit. You'll also want to match the size of the fan to the room. Energy Star has helpful tips for ensuring you install the most effective size from room to room.