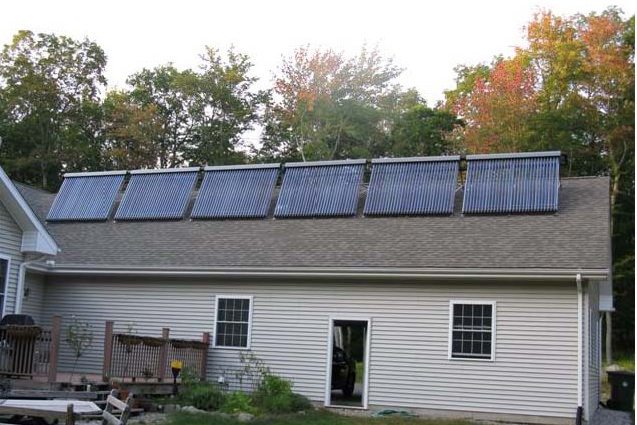 Domestic hot water consumes a considerable portion of a home's energy. So it makes sense that to look for better ways to heat water in the home. One option to consider is the Eos Solar Collector System, which uses evacuated tube collectors to pre-heat water for domestic use and/or radiant heat. The money savings come from raising the incoming water temperature (averaging 55-60 degrees) to about 100 degrees before it enters into the home's standard water heating system. The savings for an average family of four using an electric water heater drops from $900 a year to about $150.
We spoke with Steve Stinson, Sales and Marketing Director for Eos, who said that in six years, the company has installed about 4,600 systems in both commercial and residential settings, across the U.S and Canada, even as far north as Yellowknife, in the Canadian Yukon, about 250 miles south of the Arctic Circle. "Eos is really designed for cold climates and snow loads," he said. "We've developed these systems with the contractor and homeowner in mind and they can be installed by most experienced plumbers or boilermen."
These solar collectors are made in Rockland, Maine, and as a result have been tested under the more difficult conditions a northern climate offers. One of the downsides to solar heating systems is the relative lack of sunny days in the North. These Eos Solar Collectors optimize the limited sunlight and will continue to warm water up to an hour after sunset. Their tubular design was engineered with wintry weather in mind, allowing for little snow buildup on the rounded surfaces with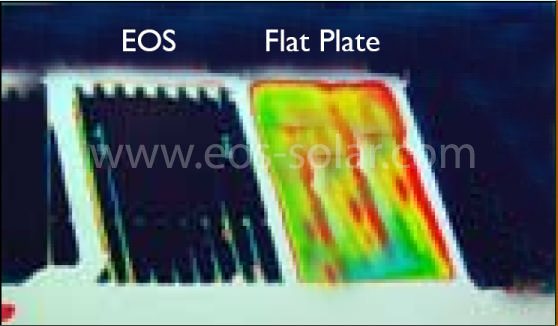 spaces in between. Their design is much more efficient than flat panel systems especially in cold weather. Eos Solar Collectors absorb a maximum amount of heat, where flat panels reflect back around 40% of radiant energy that never reaches the domestic water system.
The Eos Solar Collector array is made of evacuated vacuum glass tubes fitted inside with copper water pipes. Water from the well or utility is pumped to the collector where it circulates and is heated for domestic uses. The pre-heated water then is stored in a holding tank until there is a need for hot water. "Eos is set up to supplement your existing domestic hot water system, since solar energy— especially in the north—is not reliable," Stinson said.
While much of the design work is centered around retrofitting to existing domestic hot water systems, an installation on new construction in conjunction with energy sipping heat pumps, boilers or other options, these solar tubes can really make a difference in a relatively short time frame.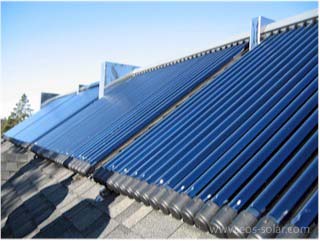 Eos Solar Collectors are made from recycled materials and are also recyclable. The tubes themselves are made of borosilicate, the same glass substance as Pyrex, and copper pipes. Other components are made from recycled stainless steel and aluminum.
Stinson has a nifty tip for those who are not quite sure about adding solar systems to their new log home. "Make sure that your house is built 'solar ready' by spending an extra $150-$200 to have two vertical pipes installed from the south roof to your mechanicals area and insulate them," he said. "Even if you do not install solar right away you can easily add solar tubes later with the piping in place." Katahdin's design team is already designing log homes with solar ready specifications in the plans.