O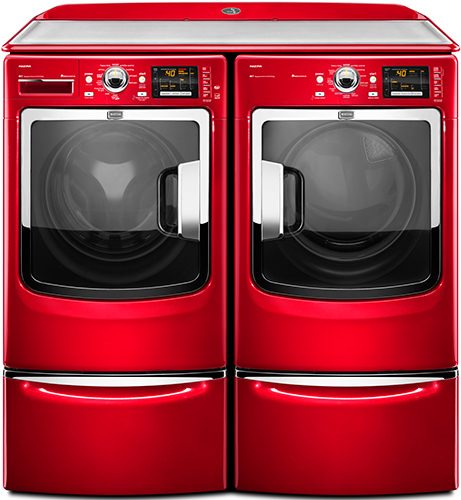 ften times, the "green" part of appliances that reduce energy or water consumption translates into a smaller capacity. Maytag has released a new line of high capacity front-loading laundry duo, Maxima, that uses 82 percent less water and 84 percent less energy than top loading machines prior to 2004.
The Maxima washer can handle big loads—up to 29 towels in a single wash. The 7.4-cubic-foot dryer can provide even drying for as much as 18 pounds of wet laundry through its Advanced Moisture Sensing. Other features that appeal to busy households, include a 16-hour "Fresh Hold" option that gives you plenty of time to transfer it to the dryer, without losing freshness. The washer also features an internal water heater and Power Wash cycle that deep cleans set-in stains.
The Maxima dryer has a "Steam Refresh" feature that sprays a fine mist in the heated dryer drum while drying. This can refresh a dryer load that has been left overnight or reduce wrinkles in a regular load. And if your gang leaves change, screws or seashells in their pockets, the "Soundguard" option provides extra insulation in the drum and quieter operation.