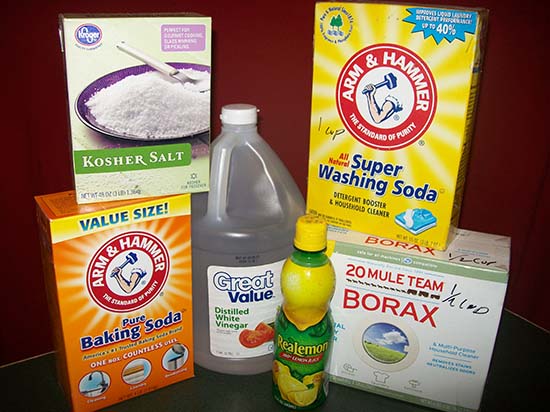 Many savvy consumers are looking to traditional cleaning methods as a way to save money, cut down on exposure to chemicals and clean up effectively with ordinary household ingredients. One big cheerleader of natural cleaning supplies is Glady Gordon, wife of Katahdin's CEO David Gordon. She and David keep their log home extra spotless since it is one of the highlights of the mill tour in Oakfield. Glady shared four of her simple, commonsense solutions to particular cleaning problems.
Laundry detergent:
1 cup washing soda (Sodium Carbonate also sold as soda crystals or soda sal)
1 container of hand soap
1 cup borax
Mix together in a container with 2 gallons of water.
Shower/Tub Spray for daily cleaning:
12 oz white vinegar
12 oz Dawn detergent
Mix together and pour into a spray bottle. Will clean shower glass doors to a shine!
Showerhead Cleanser for homes with hard water and problems with calcium buildup.
½ cup baking soda
1 cup white vinegar
Mix in a dish. Pour into a heavy-duty plastic bag. Place solution filled bag over the showerhead and tie into place so that the showerhead is immersed in the solution. Leave on overnight.
Carpet Cleaner for use in rug cleaning machines
¼ cup 3% hydrogen peroxide
1-1/2 quarts hot water
1-1/2 Tablespoons white vinegar
1-1/2 Tablespoons dish soap
lemon scent (optional)
This solution can also be poured into a spray bottle for spots.
There are multiple websites that offer other homemade solutions for specific cleaning tasks. Stocking up on staples including white vinegar, baking soda, lemon juice and liquid soap will tackle most cleaning jobs.