Post consumer recycled products made from paper have been limited to pretty much, well, paper. But a couple of new products caught our eye with applications in the home.
The first is Shetka Stone, a pressure-treated low-VOC resin and epoxy-based product for countertops or other surfaces using shredded recycled paper currency called "Counterfeit Green" (left). The visual effect from a distance is a pleasant sage green, and the close-up detail hints at the lucre that was recycled into the surface. The countertops are stain resistant and durable with a 7-year limited warranty. Other colors use recycled cardboard and newspaper to create other colors.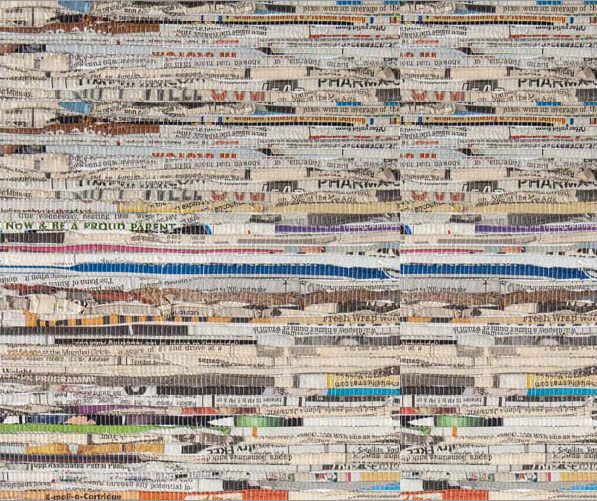 Another use for newspapers is provided by Lori Weitzner Designs. Their "Newsworthy" textile (right) can be used as a wall covering or upholstery. The workshop sews strips of newspaper together with nylon thread for tight and interesting pattern. It's a pricey textile at $125 per yard, but might provide an interesting textural wallpaper alternative for drywall hallways or guest rooms, or to upholster an accent chair or pillow covers.
Stay tuned for other imaginative uses for recycled products in your home!