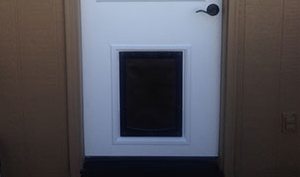 Pet doors are a common headache for pet owners who are striving for the best energy efficiency in their homes. However, we stumbled on a type of pet door that can pass a blower test and work in a certified passive energy home.
Freedom Pet Pass boast a DoubleMag™ Seal Technology that provides enough power to keep wind and outside air where it belongs, but easy enough for pets — both dogs and cats — to open. The Freedom Pet Pass is available as an indoor mount or wall mount.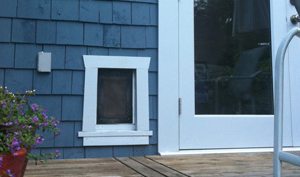 The door mount offers a locking panel that conveniently slides up into the door itself when not deployed. The wall mount also offers a sliding locking panel.
The door mount can be tackled by most home handymen with reasonable skills. The company recommends that the wall mount be installed by a professional, because of the more complicated wall system, interiors and exteriors. If considering a wall mount door for a Katahdin Log Home, it's a good idea to include that in the notes sent to the design team. They can accommodate the small opening within the plans, treating it like another "window." With Katahdin's Energy Envelope System, the locking panel would also have room to be included within the wall.
The Freedom Pet Pass website has plenty of helpful information, including how to measure for a pet door to select from stock sizes. Custom door sizes are also available.