One essential in today's new kitchens is the time-saving dishwasher. As with any appliance you select for your new log home, the energy consumption — and in this case water consumption— can make a big difference in your monthly bills. In addition to being energy and water efficient many models now feature super-quiet motors and extra soundproofing. Additionally, to maximize the energy and water consumption select a dishwasher with multiple cycles and an air-dry option. Thus you can tailor the cycle to fit the load.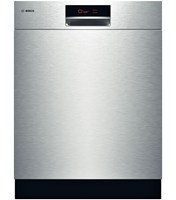 One superstar in the quiet and efficiency sweepstakes is the Bosch 800 Plus series dishwasher. Using only an astounding 2 gallons of water per cycle, this large capacity dishwasher also offers a sensor monitored "half cycle" that cleans smaller or lightly soiled dishes using even less energy and water. The unit also includes a softener that minimizes water spots caused by calcium. It also boasts a very quiet operation rating of 39 dBA, the equivalent of sound between a whisper (15dBA) and normal conversation (60dBA).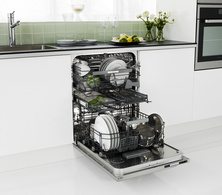 For those households looking for a large capacity dishwasher, ASKO's Extra Tall XXL dishwasher features four racks and seven baskets, including 15-1/4 inch clearance to handle bigger serving and baking pieces. It also uses a water sipping 2.4 gallons for its quick wash program and is Energy Star rated for efficient operation.
Another water-saving option is a double drawer dishwasher system like the one made by Kitchenaid. Still more quiet than a conversation at 56 dBA, this dishwasher offers two separate drawers that can be used one at a time or simultaneously to fit the size of the load. This might be an ideal option for a couple who does a lot of entertaining.
The Energy Star website offers tips on selecting washers that will save both water and electricity. Energy Star requires that full-sized dishwashers use less that 295 kilowatt hours (kWh) per year and compact designs use less than 222 kWh per year.