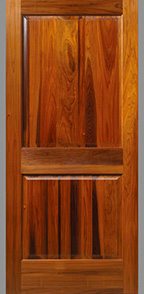 Many log home enthusiasts have had to forego their desire for wood exterior doors. If your design doesn't have an overhang, faces south and is exposed to excess UV exposure, or requires a dark stain or paint to fit into the design, a wooden door just wasn't practical.
However, a new type of wooden door that is highly resistant to warping, twisting rotting and delamination is now available. Lemieux Doors' Torrefied Door offers a 20-year warranty and can be painted or stained a dark color. The solid wood construction avoids problems with delamination and provides a sturdy, long-lived entry point. How does it happen? The wood is heated over a long period of time—called torrefication— to create a super strong, beautiful exterior wood door.
Lemieux's Torrefied Collection offers thousands of options and custom designs. The doors are available in sizes up to four feet wide and eight feet tall. Custom designs, including curved rails, panels and/or glass are available. The Torrefied Collection is available in vertical grain Douglas Fir, Mahogany and Poplar.