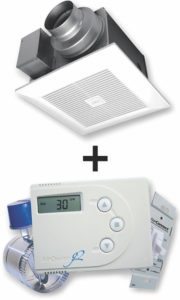 Whole house ventilation is a hot topic for maintaining both indoor air quality and enough air exchanges per hour to meet HERS energy efficiency standards. Contemporary homes, including Katahdin Cedar Log Homes, are now built to be tightly sealed against air leakage. To maintain healthy air quality and ensure good ventilation that these super-efficient homes require, whole house ventilation is the solution.
Until now, it's been a bit complicated and expensive to get the right combination of exhaust, intake, distribution and filtration accomplished. Panasonic has developed an effective low-cost balanced ventilation solution with its SelectCycler™ System. The SelectCycler uses the WhisperGreen Select fan as a principle component. The system includes a controller, supply damper and wall connecting switch. When combined with Panasonic's Whisper Green Select fans, it can perform well and help achieve excellent energy efficiency HERS ratings.
Many HVAC contractors have found the WhisperGreen Select fills most requirements with its adjustable Smart Flow technology that can "right-size" air flow requirements for rooms large and small. The SelectCycler System coordinates flow and operation of multiple Whisper Green units, to achieve optimal air exchanges in new construction. If you haven't included a whole house ventilation system in your forced air system, this could be the solution to let you breathe easy.