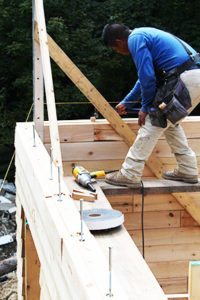 One construction detail that can make an incredible difference in your Katahdin Cedar Log Home's comfort and energy efficiency is air sealing. We've worked hard over the years to develop the most efficient techniques for keeping outside air from seeping inside your home's envelope or exterior log shell.
With our low-moisture Northern White Cedar log construction we're able to construct log walls that maintain a solid seal, avoiding the shrinkage and gaps that result from other species of wood. The tighter your home is sealed—in combination with excellent controlled ventilation—the cozier and more efficient your home will be.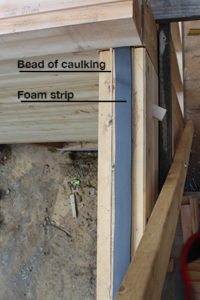 Essential Air Sealing Areas
There are a number of areas within a log home that need good sealing to perform properly:
Log Sealing —Each log fits tightly together with a planed spline and interlocking notch on the length of the log. We also apply a foam strip and a bead of caulking to ensure a tight seal on this outermost layer of the building envelope.
Rigid Insulation — Rigid foam insulation sheets are applied to the inside of the log walls and each sheet seam is sealed and taped to ensure a tight finish in our standard insulation package. For the increased R-values of the Energy Envelope system, we employ a system of overlapping layers of the rigid foam insulation which achieves a good seal.
Sealing Penetrations — Most interior and exterior walls have penetrations for electrical, plumbing and other conduits. We use a low-expansion spray foam to seal these gaps on both exterior log walls and on the inside of finished walls where convenience outlets, switches, or lighting emerge.
Window & Door Bucks— Katahdin is one of the few log home companies that provides custom cut window and door bucks. These bucks are strips of wood that help to seal the window and door openings before windows and doors are installed. These are often further sealed using spray foam or caulking for a tight seal.
Roof System Innovations
We also maintain constant communication with our Katahdin builder/dealers to improve and enhance techniques in building our log homes. One of these innovations developed from a Katahdin customer's desire to build a LEED (Leadership in Energy and Environmental Design) certified log home (read more here). The LEED certification scores buildings on a number of energy efficiency details.
It's worthwhile to note that in our purlin and truss roof system design, the intersection between the horizontal purlin logs and the gable walls involves the purlin passing through the wall and terminating on the exterior of the home. For LEED certification, the purlin penetrations were redesigned to benefit the overall air sealing score. Katahdin Dealer Steve Howard worked with the design team in Oakfield to develop this innovative purlin design that maintained the structural integrity of the purlin and gable intersection without actually passing the purlin log through the wall.
The result of this attention to detail in all aspects of your Katahdin home's exterior envelope is a well-sealed efficient home that maximizes all the energy efficiency elements.