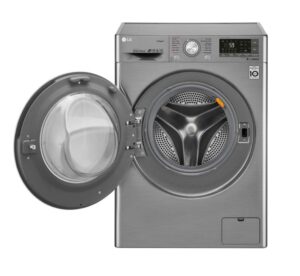 Laundry rooms have become dominated by large, bulky pairs of washing and drying appliances. Free up space in Your Katahdin Cedar Log Home and combine into one single washer/dryer combination with LG's 2.3 cu.ft. Smart Wi-fi Enabled Compact All-In-One Washer/Dryer.
Smart Tech Makes Laundry Easy
Using LG's ThinQ app, you'll have your laundry controls at hand on your smart phone or utilizing your smart home assistant to control the start, stop, and load instruction. You can select among several different wash and dry cycles to customize your laundry tasks. The All-In-One Washer Dryer includes a steam clean setting to penetrate clothing to remove dirt, odors and wrinkles.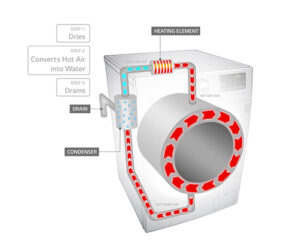 Ventless Drying
Is your exterior dryer vent causing issues? That exterior vent can cause air infiltration, and an attractive entrance for nuisance critters. TLG has removed all that hassle with their ventless drying system. Hot, dry air is heated with the heating element and distributed around the washer drum. Hot moist air is cycled up through a condenser that converts the damp air to water, that is drained out of the unit. The cooled dry air is recycled back toward the heater to continued drying.
Keep Allergens at Bay
LG washers also offer the Allergiene™ Cycle removes 95% of allergens, pet dander and dust mites. If family members suffer from allergies or asthma, eliminating these minute particles can really help reduce symptoms.
Effective Cleaning
LG's All-In-One Washer Dryer also gets clothes clean, using six different actions within the drum to ensure the most effective cleaning action. These actions include rolling, stepping, scrub, tumble, filtration and swing. Combined, these attack dirt and grime everywhere in the load. And, with the largest capacity available —2.3 cubic feet—in a combo unit, you'll tackle laundry quickly and efficiently.