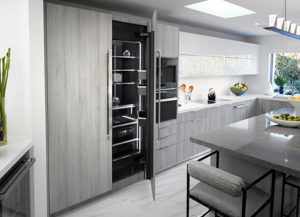 Column refrigeration offer new design flexibility combined with precision, energy efficient refrigeration and freezing capacity. Column refrigeration offers cooling modules in various widths and depths to allow you to configure your built-in refrigeration to suit your desires. We take a look at a few of the new options available.
And Now, Something Completely Different
Jennair's new RISE™ and NOIR™ column refrigeration collection are reimagining the refrigerator. With their daring obsidian black interior, ecliptic LED lighting and precision Trinity Cooling sensors, these column units break new ground. Select from refrigerator and freezer units, select handle and panel options and join together for a custom built-in configuration. The columns are available in 24-, 30- and 36-inches wide, all at counter depth to blend into your pantry wall seamlessly. Mix and match by opting for a columns of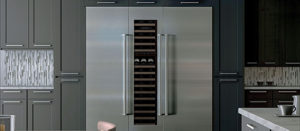 differing widths and left- and right-open configurations between your fresh and frozen columns.
Looking for Integrated Wine Storage?
Sub-Zero's column wine storage units protect your vintages four ways: temperature, humidity, vibration and light. The units integrate with other SubZero column units and offer widths of 18-, 24- and 30-inches with bottle capacity of 46 to 147. The wood-trimmed drawers provide easy-glide access and touch controls provide easy adjustment at waist level. Sub-Zero offers accompanying column units in either panel-ready or stainless-steel finishes.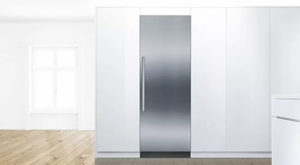 Keeping it Simple
Bosch offers built-in columns for fresh and frozen food storage. The interiors feature LED lighting, tempered glass shelving and Multi-Air Flow refrigeration for consistent temperatures throughout the unit. Bosch Refrigeration also connects with HomeConnect to ensure accurate and convenient controls.