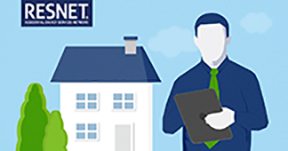 We encourage our customers to consider hiring an energy rater or energy auditor to consult throughout the design, construction and finishing of any new Katahdin Cedar Log Home. At a recent event, one attendee wanted to learn more about the benefits of hiring an energy rater and just how the process might work for a new home. We spoke to Ryan Meres, Program Director at RESNET, to get his input. RESNET is a non-profit organization based in California that develops industry standards and training to conduct home energy ratings. Here's what we learned:
What is a RESNET HERS Index Rating?
Meres explained that a RESNET Home Energy Rating System or HERS Index Score is like a miles-per-gallon sticker for your home. It uses sophisticated computer modeling and specialized tools to measure a home's energy usage against typical homes in the same zip code. But unlike with your car's MPG, lower is better. The HERS rating ranges from 100, which would match your home against an average home's energy usage in your area. Scores descend from there, with 0 equaling a "net zero" home, meaning that it produces and consumes an equal amount of energy on an annual basis. Negative number scores indicate that the home is producing more energy than it consumes.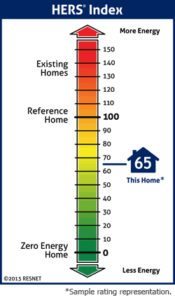 What are the benefits to achieving a low HERS score?
The first and biggest benefit is that your home will be more energy efficient, more comfortable and cost less money to operate year-round. A home with a low HERS score can also help you save in other ways. Studies have shown that energy efficient homes enjoy a higher resale value. One study in the Portland, OR, housing market showed an average 8% increase in home value for energy efficiency. Your bank loan officer may also note another study that showed energy efficient homes have an average 32% less chance of mortgage default. So, documenting your home's energy efficiency can make your home more valuable and a more attractive risk to lenders.
How does a RESNET Energy Rater evaluate my home design?
For new construction, Meres said, it's a good idea to contact a RESNET rater while you're still in the design phase. The energy rater can work closely with Katahdin's design department and your builder to evaluate the plans, solar orientation, HVAC specifications, windows, doors and insulation to develop an initial HERS score, called a Projected Rating. The rater can then evaluate and advise possible changes that might yield higher energy savings. All the information is entered into the RESNET approved software and stored for future reference in tabulating the final score, called a Confirmed Rating.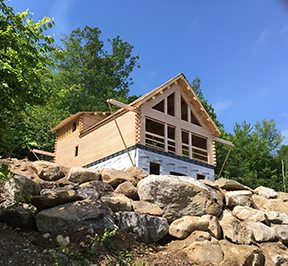 What steps will the Energy Rater take during construction and completion of my home?
After your plans are finalized, the Home Energy Rater will inspect the home at least two times:
First inspection This takes place when the exterior envelope is completed but prior to interior finishing with cedar tongue-and–groove paneling or wallboard. The rater will be checking for any missing insulation, bad seals or rough openings around windows and doors. This inspection may utilize a blower door test and infrared imaging to locate any gaps or leaks before the interior walls are finished. This will enable your builder to remedy any problem areas before the interior finishing covers it up.
Final inspection When the home is completed, the energy rater will inspect the home a final time. During this inspection, she will confirm that all HVAC, windows & doors, ventilation, ductwork and other energy appliances match the original specifications. At the final inspection a blower door test and duct test may also be conducted to confirm the air leakage rate of the ductwork and building envelope. Any changes from the Projected Rating to the final inspection will be updated. Once the final score is tabulated you'll receive a HERS Certificate which may qualify your home for rebates and tax incentives.
What training does a RESNET Certified Energy Rater receive?
RESNET certifies Home Energy Raters through a rigorous training program and field work. The classroom portion consists of a week-long, 8-hour daily classes, culminating in a final exam. Once the rater has received a passing grade, he or she must register with a RESNET Quality Assurance Provider who will oversee a series of Probationary Ratings and other tests before a Candidate Rater may receive final certification.
How do I locate a RESNET Certified Energy Rater in my area?
The organization's website has a locator tool where you can search for RESNET Energy Raters in your area. Any professional located on the website is certified and up-to-date with training.
How much will it cost to hire A RESNET Certified Energy Rater?
Meres notes that the average cost for start to finish new construction consult is between $400 – $800. The final figure is often based on geographic location, as well as the size and complexity of the home.
We encourage all our customers to include energy auditing in their home construction budget. It is really money well spent!