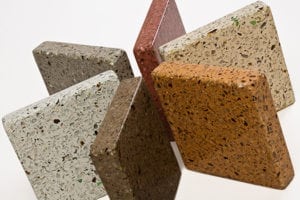 Concrete has emerged as a popular option for countertops and other surfaces in Katahdin Cedar Log Homes. One manufacturer, Merge Design, took lessons learned from 20 years of concrete work to take their product to another level with their eco-sensitive, extremeconcrete®. We spoke with company president Peter Bustin about what makes extremeconcrete® different.
Bustin started in 1998 to make "cool things out of concrete." They built up their company Meld USA, and ultimately sold it to a manufacturer of outdoor furniture and accessories. "But we retained the name extremeconcrete® and took advantage of the buyout and its large-scale lessons to create commercial and residential concrete surface materials. At the time, there were so many recycled glass and quartz products available, we thought we could produce something different with our concrete technology that would be sustainable, unique and exciting," Bustin said.
The resulting product— extremeconcrete®— is a durable, high performance concrete material that incorporates recycled material with the ability to be poured into an endless array of molds from sinks and countertops to tables and outdoor planters.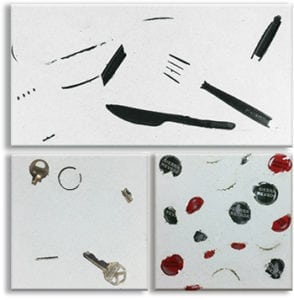 The product is available in standard in 3 cm (or 1-3/16″) thick slabs that measure 60" by 108" with a weight of about 1.4 pounds per square foot. The Merge Design website offers 20 standard samples with the ability to select a tray of samples to review on their website. They also have a catalogue of more than 400 specific colors that can be reproduced upon demand.
Where extremeconcrete® gets interesting is the custom design options. In commercial applications, Bustin is enthusiastic about some of the interesting fabrications they've produced. "We incorporated coffee beans in the extremeconcrete for one coffee producer. You could smell the coffee!" he said. For another tech company, they blended in bits of circuit boards, while another customer supplied old guitar picks for a unique look. The process uses white cement so most colors —except very dark hues and true black—are possible.
The best outcomes use recycled aggregate materials ranging from ¼-inch to powder, Bustin explained. "Once we cast the concrete, we'll grind it down to expose the unique particulate amendments and gain the best effect." As to what they can fabricate, anything that can be molded is possible. They have existing molds and are able to fabricate custom molds for most designs.