If your family is a high demand hot water group, you'll want to consider several options for keeping showers steamy and your energy use down.  Tap into super-efficient hybrid heat pump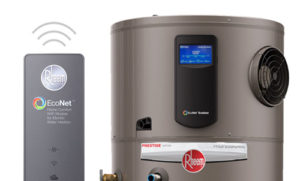 technology that delivers hot water and pairs well with solar installations. These new hybrid heat pump electric water heaters offer great efficiency plenty of hot water and features to keep your water usage on track.
Rheem's Performance Platinum Series comes in three sizes for residential installation: 50-, 65- and 80-gallon tanks. These tanks are called hybrid, because they combine heat pump technology with conventional electric power heating elements to meet demand as needed, delivering hot water faster than most standard electric water heaters.
The heat pump component works like a refrigerator in reverse: taking warm surrounding air and using it to heat the water inside the tank. Rheem equips these hybrid water heaters with EcoNet smart features for remote programming for energy saving modes, vacation modes, customizable temperature settings and remote system monitoring. The unite sense water outside and can send a leak alert to the homeowner on a smartphone app. A user-friendly touchscreen allows for homeowner programming avoiding the typical hard to access and adjust dials in conventional water heaters.