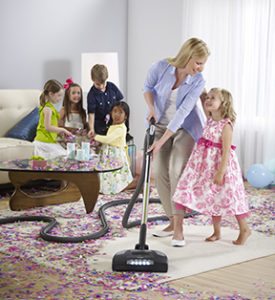 Central vacuums are making a big comeback, in part from advanced technology and from increased awareness of the negative effects of poor indoor air quality (IAQ). A recent study by National Association of Home Builders showed that 34% of respondents marked a central vacuum system as a must-have for a new home.
Electrolux, that a stalwart of America vacuum cleaners, has re-entered the U.S. market with their Beam Built-In Vacuums. And not to worry, these systems will install easily in a Katahdin Cedar Log Home—but we'll get to that in a minute.
For removing allergens, central vacuum systems offer several benefits over conventional vacuum cleaners. The power unit provides the right amount of suction to remove the allergens (dust, dust mite dander, pollen and pet hair) and deposits them in a collection bin that is located outside the main living area. There, the contents can be disposed conveniently into trash receptacles. In conventional vacuum cleaners, these allergens can escape through the dust bag and back out into the living environment. A recent study by The University of California at Davis School of Medicine showed that users of a central vacuum system reported reduced symptoms and improved quality of life when compared with traditional vacuum cleaners.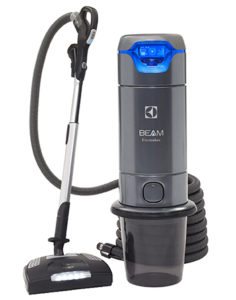 The company's top of the line BEAM Alliance System features sophisticated technology that overcomes some of the downsides of central vacuum systems of past years. The Alliance has features that include 2-way communication between the power unit and the hose handle to ensure super-efficient operation. The handle attaches to a 30-foot hose that links to the central suction system powered by the motor unit that is housed in either the basement or garage.
Design and installation of a central vacuum system uses 2-1/4-inch PVC pipes to link the power unit to strategically located ports throughout the home. This small diameter piping will mesh well with Katahdin's Energy Envelope System, where insulation, wiring, plumbing and other services are enclosed within the exterior log walls and the interior cedar tongue and groove paneling. The effect is seamless and energy efficient. Each port will be able to clean about 700 square feet of living area, and ports are positioned strategically to navigate corners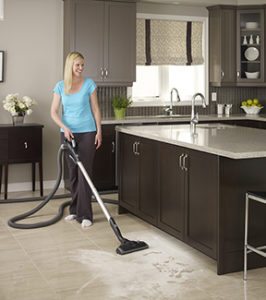 and provide coverage throughout the home.
Sized Right
Beam offers four options for central vacuum systems, sized by the power of the motor. The measurement is done in airwatts, which indicates the suction power of the central unit. The Beam Alliance, the topline unit, has an airwatt rating of 700, and includes HEPA exhaust filtration, a system performance Smart Screen, variable speed controls that can shift from hardwood floors to sheer curtains with the press of a button, a quick-clean valve and a press-and-release bucket.
Additional units are available in 650 and 600 airwatts. The power units measure 15 inches wide and 45 inches tall for the Alliance model; 650 and 600 airwatt BEAM units measure 36 inches tall. Pricing for the units ranges from $1,000 to $1,500 not including installation.
Great Accessories
Central vacuums come with lots of useful accessories and options. Some that we like include: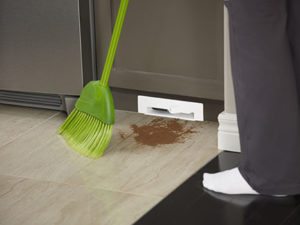 Vacuum pans where floor sweepings can be sucked away with toe switch activation. Great for mudrooms, kitchens and play areas.
Pet grooming kit that features a grooming attachment —and no scary vacuum noises!— for effortless pet hair removal.
Ceiling fan cleaning kits.
Coming soon: a self-cleaning head, where a button on the handle will deploy a blade to cut away hair, threads and other long items that can clog the vacuum brushes. The cut hairs are then sucked away cleanly. No more flipping the power head over and manually cutting and removing!
Because of its benefits to indoor air quality, a central vacuum system also qualifies for IAQ points in rated green building systems, including LEED. If you think you'd like to include a central vacuum system in your home you'll want to alert the design team so that they can accommodate the system in your home.