Looking for a recycled material countertop option that looks great and reduces your carbon footprint? IceStone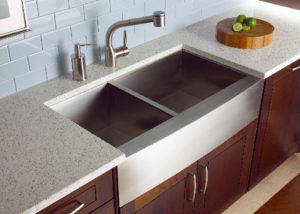 has a newly redesigned countertop that blends recycled glass and a concrete binder into a durable, stable option for your Katahdin Cedar Log Home.
What's New?
The company's new formulation includes a penetrative treatment that eliminates the need for yearly sealing that earlier recycled glass surfaces required. The treatment adds higher UV stability, stain resistance and also removes 21 pounds of carbon from your footprint. With no VOC off-gassing, the new IceStone surfaces are LEED and Cradle-to-Cradle Certified™ for sustainability and National Sanitation Foundation (NSF) Certified by the to protect your family's food safety.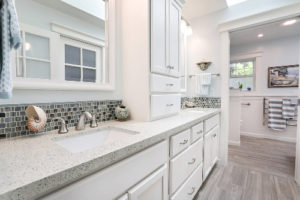 Just How Much Recycled Glass?
IceStone sources its recycled glass through commercial glass recyclers. They take waste glass, process it and polish it for use in IceStone's surfaces. This glass content adds a three-dimensional appeal to the surfaces. This offers both color consistency and a variety of design choices. The recycled glass comprises about 75% of the materials in Ice Stone, with concrete and pigment making up the remainder of the formulation. With a 17-color palette to choose from, there's an option to excite nearly every sensibility. In fact, IceStone was the top choice for several top commercial applications,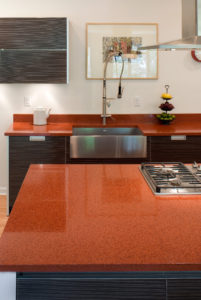 including headquarters of NASA, New York's Bank of America Tower, Heineken USA and The Bill & Melinda Gates Foundation.
Looking Ahead
While currently available in a polished finish, Ice Stone will be offering a matte surfaced version later this year. The company is also formulating a thinner IceStone format to be used as flooring. The company sells through architects and dealers as well as direct to consumers in the US and Canada