Induction cooktops are experiencing innovation, which may help to move these high-ticket options more into the mainstream. With their super-precise heating controls, and easily cleaned surfaces, induction cooktops are a great choice for a new log home kitchen.
The added benefit— and why we featured it here in our Green Tip— is that induction is both an energy efficient way to cook and it eliminates a hefty part of indoor air pollution that's created from propane or natural gas stove tops. Plus, they pair well with solar power on your home!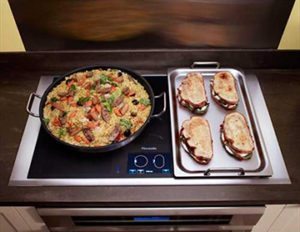 We reviewed two new entries into the induction market.
Thermadore 36" Masterpiece Freedom Induction Cooktop
Thermadore's topline message is that their cooktop has the largest fully usable cooking surface available. Its design is unique — up to four pots or pans can be placed anywhere on the cooktop, in any configuration. No more aligning with little circles and size limitations. Its smart sensors identify when you move a pan to a new location and transfers all the heating data to the new location. Its pan recognition sensors also will not turn on or off if other small objects are placed on the surface. The cooktop's controls are touch controls incorporated right onto the cooktop surface, for a clean, uncluttered appearance.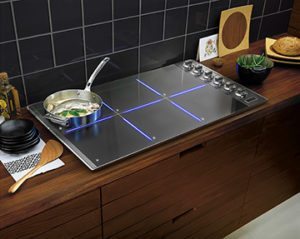 Viking 36" All-Induction Cooktop
Viking's induction cooktop can handle six different pans sorted on a basic three-over-three grid. The grid is defined by their CoolLit® LED lights which outline the area that is activated for heating. Viking's controls are aligned on the right side of the unit and use more analog style knobs for activation and temperature control.
Whichever induction cooktop you select you'll enjoy both precision cooking controls and sleek good looks.