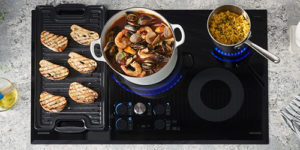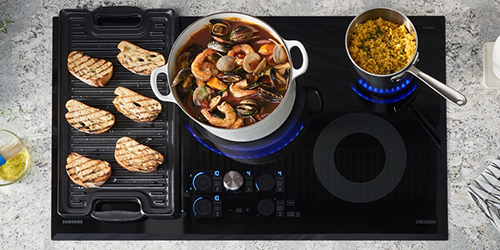 For years, the top gourmet kitchens have insisted on natural gas or propane stoves, because of the excellent control and powerful BTUs provided by burning these fuels for cooking. But as folks construct well air-sealed homes to increase energy efficiency, removing combustion for heat generation is also getting a second look. Fortunately, there's a great solution for home chefs with induction stove tops.
Induction Cooking Offers Precision Controls
Induction stove top cooking works by making the pan heat up, rather than heating by making a flame to heat the pan. The cook top itself stays relatively cool. Because of the way the induction surface works, the controls are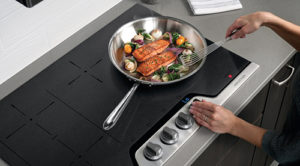 instantaneous and precise. Bring water and rice to a boil and immediately reduce to a simmer with a touch of the control.
Reduce Combustion Gases
For traditional gas stoves, there are two ways they can negatively impact your Katahdin Cedar Log Home's indoor air quality. First is the actual cooking of food, which can create contaminants, but also dependent upon the type of cooking being done. The gas burners do create combustion by-products, including nitrous oxide and carbon monoxide. Because of these combustion gases, professional style gas stoves require large exhaust fan hoods to remove these air pollutants from your home. Because the induction surface is easy to clean and doesn't heat up much, spilled food doesn't burn and cause unpleasant odors.
Induction Improves Safety
Induction stove tops are powered by electricity, so you eliminate the need for natural gas or propane service inside your home. Also, because the surface doesn't heat up —only the pan— the chances of getting burned or starting a grease fire are nearly nonexistent. This makes induction stove tops a great option for aging in place as well as families with lots of active youngsters!
Improve Energy Efficiency with Induction Cooking
Because induction puts the heat directly into the pot or pan, there is little excess heat produced while cooking. In this way, induction can make your air conditioning work less had to keep interiors cool. The precision controls and lack of imprecise gas combustion makes cooking efficiency targeted toward heating the food itself.