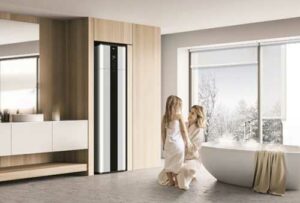 Looking for hot water energy savings and great aesthetics? Check out the new LG Inverter Heat Pump Water Heater that applies heat pump technology to cut water heating costs by nearly 75 %.
Uniformly Efficient
The LG Heat Pump Water heater uses inverter technology to heat water has an ENERGY Star® certified efficiency of 3.75 UEF. The industry average for water heating ranges from 0.65 to 0.95. The Uniform Energy Factor measures the efficiency of water heaters with higher numbers indicating higher efficiency.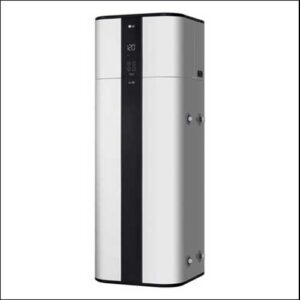 Quiet, Sleek Design
Rather than develop another water heating appliance that needs a hiding place, LG set about to design a heat pump water heater that didn't need to stay out of sight. The result is a sleek stainless steel appliance that blends in with laundry room appliances, bathrooms or kitchen décor. Operating noise is barely noticeable which makes location simplified.
Turbo Fast Heating
The LG Inverter Heat Pump Water Heater uses DUAL Inverter Compressor maximizes the power in turbo mode for 30% faster heating time for first-use water. The dual compressor uses 10 Hz for the power saving operating range, and 80 Hz for high-speed heating range. Because of the wider range of compressor fan speed more energy can be saved with a faster cooling and heating time.
Part of the LG ThinQ Family
This super-efficient water heater uses LG's ThinQ smart technology for flexibility and energy savings. Wi-Fi controls from the ThinQ app allow the user to set the water heater to four different operating modes:
Heat Pump Mode—simply heats water with the heat pump
Auto Mode —automatically controls heating functions for optimal performance
Turbo Mode —boosts heat functions to heat water quickly
Vacation — minimizes energy loss when not in use.