The short answer is yes, log homes can be LEED certified, but it took a bit of tweaking.
Our well-designed Energy Envelope wall system at Katahdin already meets energy efficiency standards required in every zone in the US. We didn't have far to go to meet the very high efficiency and environmental standards of a third party rating system from the US Green Building Council's Leadership in Energy and Environmental Design commonly called LEED.
Green building was once an outlier for value in home building, but as energy prices rise and resources diminish, the demand for so-called "green homes" is increasing. According to the US Green Building Council's website, "73% of single-family builders and 68% of multifamily builders say consumers will pay more for green homes." Additionally, the group notes that a Harris Interactive poll of over 2,000 Americans found that nearly half (49%) consider eco-friendly features more important than luxury items in a home (31%). As time goes by, it appears that a LEED rated home—well-designed and custom-built— will certainly fetch a premium price on the resale market.
LEED certification takes a comprehensive approach to home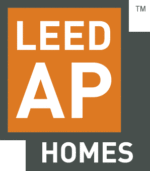 construction. It takes into account the materials used, water usage, site location, alternative energy, overall efficiency, and sustainability and proximity of some materials.  A primary focus of LEED ratings is the energy efficiency of subject homes. As you may already know, Katahdin's use of Northern White Cedar for its home designs already meets the sustainability requirement for materials. Plus, our mills' proximity to natural growth forests of cedar make proximity easy hurdles to overcome.
LEED designations begin with a review by an accredited professional LEED consultant. He or she will review the site, house plans and other elements of the project, then offer suggestions to improve the home's design relative to the goals of low energy use, well-sealed envelope, and other factors.
We spoke with dealer Steve Howard, owner of Howard Construction in Berwick, Maine, about a LEED designed Katahdin Cedar Log Home he is completing in nearby New Hampshire. He noted that the general construction practices in laying the log walls, sealing between each layer and superior fasteners did not need adjustments to qualify for LEED and were built as normally done with Katahdin designs.
There were two areas where Howard needed to pay special attention to meet the LEED standards for air infiltration. In one area of the foundation, he applied a plant-based spray foam insulation between the foundation top and the box joints to seal a common area of air infiltration.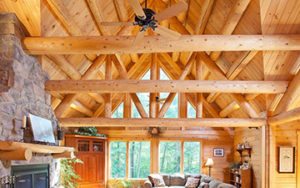 The second area resulted in a unique and effective design change in the roof system to minimize the number of through penetrations of the wall system. One penetration location in traditionally built log homes is the extension of spruce purlins through the log walls terminating on the exterior of house, on the underside of the eaves. The look is distinctive and one feature that our customers really love.
Because of the natural shrinkage of the roof purlins, minute infiltration leaks tend to develop over time. These can be sealed with caulking for a tight fit, but LEED standards lean heavily on reducing or eliminating the number of penetrations in the wall to maximize the tightness of the envelope.
So Howard and the Katahdin design team came up with a solution that maintained the desirable appearance of purlins that extend from the inside ceiling to the outside eaves, but without actually passing through the log wall. Howard used 10-inch Oly-Log screws to affix the butt ends of the purlins to a 4" by 8" carrier arm. The 4×8 not only provided an attachment location for the butted purlin but stabilized the wall and increased the structural strength. A similar sized spruce log is attached with v-notches and Oly-Log screws to the face of the log wall.
As with any product, new solutions and innovations are the result of meeting new needs and standards. "That's what's great about Katahdin," said Howard. "Ideas and changes come from the field, and new concepts are given full consideration by the management and design teams at Katahdin." If it makes the product better, then Katahdin embraces it, he added.
Developing a new roof system design that meets a very stringent standard is an improvement that will make Katahdin log homes tighter and more efficient overall without sacrificing their rustic good looks.
And the enhanced sealing efforts in the joist boxes in the foundation area combined with eliminating the purlin penetration yielded some impressive results. When the blower door test was run to determine the tightness of the building, Howard noted they were targeting a 0.50 per 50 ACH. He was pleased to learn that the home tested out at 0.48 per 50 ACH. (50 ACH indicates 50 Air Changes per Hour, a baseline standard for pressure inside a home.)
The home that Howard built is nearing completion, and we'll be updating you on this stunning new log home LEED milestone this fall.